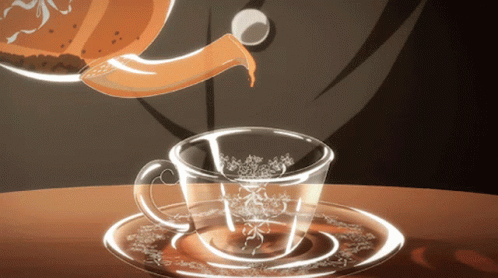 Welcome to round 2 of my unoriginal anime diary idea. Time to sit down with a coffee I think.
---

This entry of my diary will contain quite a bit from over the past week and bit, I've gone through some motions of watching and reading. Before getting into anything I've decided to use my anime diary to keep track of what anime I have completed for Tessa's 52 Anime challenge .
Week 1
I'd put this show on pause last year and was feeling something cute so I picked it back up. Glad I did this new adaptation of the manga and original anime, really cute. Though everything happens at a much quicken pace then I was use to while still watching the original. Honestly I knew that going into this, the colours and costume revamp I absolutely adore the crap out of. The girls are really full of such life in this adaptation and I think it's a good thing this adaptation happened to repromote a different ancestor that was alongside Sailor Moon once upon a time.
Week 2
Digimon Tri movies I'd been meaning to see for just ever, the library had the entire six movies bluray set so that was an easy choice. Digimon was another whole lot of childhood next to Yugioh, Pokemon etc, a show displaying a splendid, beautiful theme about bonds, friendship. Probably most heartwarming out of all my childhood watches, there was something extra special in that factor than the rest. You can imagine was super stoked to see everyone again, older and on a new adventure. I was surprised how I felt after completing it all. The first three films possessed what I felt from my childhood, same warmth. Didn't take long for the tears to come unannounced the moment of reuniting and laughter from fantastic chemistry of the characters. But that is where the magic stopped the last three films dragged on the path of doomsville for a bit too long even right into the last film. Milked for too long leaving me with only half the satisfaction. I'm not keen to see the final film at the moment, later on when I feel in the mood too.
---

Snow White With The Red Hair Vol 10 + 11
Finally after maybe a year picked back up one of my manga favourites. I am currently collecting it but decided borrowing from library is currently easier option right now. I love where the story is taking off now find out more about Kiki one of princes Zen's aide and just more adorable Zen x Shirayuki moments. To be honest that is what I seek 80% of the time because they are just the darn cutest ugh, words could not describe. If you have never watched the anime or read the manga and are seeking romance in your life, this is a fairytale you must make time for. Stoked for when the next few volumes go because it's getting serious.

A Galaxy Next Door Vol 2
This was an unexpected read I came upon, after finding out reading first volume it's receiving a anime adaptation. Refreshing read addition to what I am currently reading this series, very out of my usual reading realm but that is a good thing. Shojo manga artist faced with losing his father and forced to look after his two younger sisters. Then really out of nowhere a girl from another world and strange customs comes into Kuga Ichirou life and shit happens fast. haha laziest plot explanation think I've ever given ahaha. I felt a strange warming to this title after volume one and it really is cute the fast bond Kuga and Shiori form under random circumstances. This manga title as a bit of everything going for it, family, forming relationship and manga ambitious focus. Hard not to love something about it.
The Ice And His Cool Female Colleague
I told myself from completing all of my seasonal anime from fall to have a break for a season. . . though soon as my blogger friend Lyn started talking about this anticipated watch of mine, I caved. What a freaking adorable office romance we have here, pretty much if you love Wotakoi then this will fill the void very sure it will. Everything right from episode one is sheer cleaness of genuine feelings on the table, no mad crushes trying to catch attention of said Himuro. None of that crap instead treating to something warming from the beginning. From their things blossom grow among Himuro and Fuyutsuki, their intentions of doing nice things for each other only strengthens the forming bond. Treated to some endearing reactions, Himuro is the greatest of them all being as descendant of a snow woman comes with some interesting quirks. Himuro's ice power react towards his emotion, when involving Fuyutsuki he becomes either happy or excited little snowmen appear everywhere. Nothing but feel good is contained within this anime.
My Hero Season Six First Cour
I finally felt in the mood to play My Hero catch up and oh boy. . . most intense yet from this popular shonen. Only reason I didn't watch when first came out was waiting for the dub. Definitely waiting to binge this was best idea for me, my god lot of plot drops occurred and it was literally mental what has happened and this is only first cour. Whenever a new season has dropped I'm reminded why I love this god damn shonen, there was some shining stars in this first cour especially Rumi aka rabbit girl. Absolute fire this whole thing was and now I wait again for the second cour to complete then I can binge.
---
I have watched and read more things than what is written here but I'll save that as I go along. My seasonal watching is more than 8 now. . . as I write this so many good series this winter season which surprised me that I couldn't resist starting them all. You can look on my ani list to find out what I'm watching.
See you in the next post!
Lita xx