I thought I had written a list about my favourite voice actors but apparently not.
---

English dubs… English dubs… English dubs saying that over and over to someone who dislikes them with a vengeance really is hilarious and when I have in the past it's taken in a joke manner. Lucky me for those kinds of responses. As a majority the factor between those who love and hate dubs is very wide but I'd like to think it's 50/50 these days. Maybe not way back when once upon a time, dubs came alive in the west and how now over the age of 30 I cannot stop watching them. English voice over will always have an important place in the world whether you reading this has a hate agenda against it. But my thoughts on this matter will be for another post.
I can't believe in all my time having this blog not once have we addressed some of my favourite voice actors who have made some of my favourite characters come to life. The list could be way bigger over here people but I've just squeezed five because it's late writing this and don't feel like top 10 right about now.
---

Luci Christian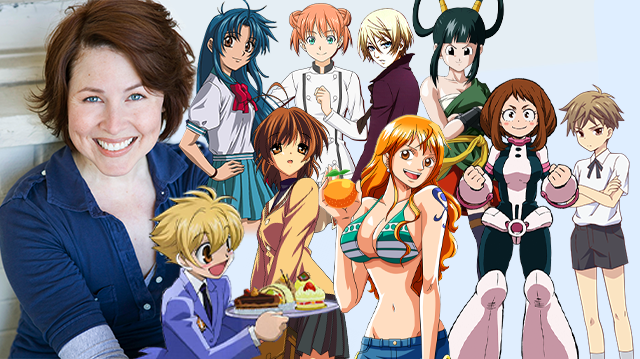 Kaname Chidori from Full Metal Panic is where I first discovered Lucy and have religiously followed her voice over work since. Luci is who I would rush to any con if she was going to appear at one in Australia, meeting her would make me die over. There isn't a lot of voice actors I feel that way about but Luci most certainly makes the top marker. She really has a knack for playing firy, unruly females like Kaname, Stella from Chivalry (recently saw her in) and hype up, positive rays of sunshine like Urakara from My Hero, Yuki from Food Wars. Listening to Luci just livens me up and her adoring, vertaisle voice.
---

Josh Grelle
Zen from Snow White With The Red Hair is where I first discovered Josh and playing valiant Zen that just sweeps anyone off their feet with with the swoon worthy voice that is required. He has such a satisfying voice to listen to and so clear in his deliverance of performance. Voicing Armin in Attack On Titan was the first surprise to where Josh shows versatility, Armin is quite in panic during the show and brings out focused but also nervous sides of a character like Armin beautifully. Where on the other hand Tokoyami crow boy from My Hero really dives into a head strong, powerful character here and Josh brings out the best in one of my favourite characters by him.
---

Chris Sabat
Upon discovering after so long he voiced both Vegeta and Piccolo is when I truly became a fan of this amazing guy. I have met him in person with a fantastic story to go along with it but I'll leave that for another post. Chris has always been up there in the favourites, any role he's done in any series I've watched has taken on like it's no big deal. Chris in the end made me like Vegeta while watching Dragonball Z because I never use to at the beginning. Sasabe Coach guy from Free! is one of my favourite lesser known roles by him, shows off how I enjoy Chris playing upbeat, positive guy. Chris I find has a dominating presence in his performances which don't want to make you look away and forcing you to take attention to what is going on. Not a lot of voice actors have that kind of presence for me but one of few that does.
---

Erica Harlacher
Erica I've only become a fan of just in last 3 years from her role as Violet in Violet Evergarden. I was thinking where has this female been hiding. Erica really blew me away with performance of Violet, nailing the immense emotion surrounding such a character and severity of the situation she was in. It's one of my favourite performances, Erica handled it like a pro and demanding her attention. Always later you realise the roles some of these people played how I adored princess in Aldnoah Zero and finding out Erica did that, showed me dam we can play unyielding princesses now. D' Arc Jeanne from Fate Apocrypha another present role that spoke pose and resilience that threw me in a dizzy with how good Erica pulls off roles like this. She grabs my attention every time so I look forward to watching all the shows she has been in haha eventually.
---

Billy Kametz
I haven't been able to address the loss of Billy which was a shocker to me. Too young to have been gone so soon but it won't change he will be a favourite. Naofumi from Rising Of Shield Hero is where I began following Billy, bit late to the party but god Billy knew how to pull off a swoon worthy, appealing voice that makes you melt. His performance of Naofumi is indeed my favourite of his but another that is a 180 voicing white blood cell in Cells At Work. Billy really lets himself loose with this role I felt throughout and demonstrated intense or serious characters neither seemed difficult. Billy had a fun presence in his performances and I just loved hearing his voice in general it was warming. . . it will be missed dearly.
---
There you are a glimpse into who I look out for when watching a new anime and if any of these are involved then makes me want to watch even more.!
See you next post!
Lita