Feels like forever ago when I last completed a manga and what do I complete? Another shoujo just like Lovesick Ellie that made it into my top 5 so fast but I'm late writing about this one! 
---

Before things got a tad chaotic for me last week I had a whole evening reading manga which hasn't happened in so long. I played some catching up where I left off on my reading list, I didn't get to read all I wanted but an accomplishment completing a long time favourite finally after discovering it three years ago. A title meant to talk about for ages but wanted to wait till I'd completed it. So how did this romance reached my top 5 so quick? Kiss me at the stroke midnight possesses similar attributes to Lovesick Ellie that I like to see in my shojo reads. Author Mikimoto gets my vibe on that why I've become an avid fan of her work of anything new she has coming out.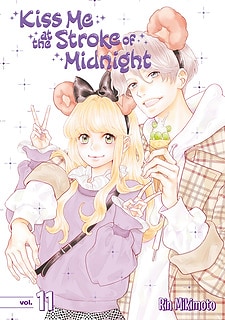 Talking To My Inner Romantic Reality 
Kiss Me At The Stroke Midnight is the connector to your inner romantic. The one who fantasises of their celebrity crushes, the love foreseen for themselves will happen, watching the notebook thousands till you have no more tears left, reads all the romance novels. With a Cinderella twist reference Author Mikimoto puts her own spin on a classic and creating a connection to romantic selves like myself that I've not found in other romance manga before. How is this achieved? Well like with Lovesick Ellie it was all down to the female protagonist. Hinana is a female protagonist that instantly got me, by presentation goody two shoes, not much going on in her life, seems collected together. Underneath she is romantic lover for a fairy tale love that one day will come. 
Nana from Nana, Mikai from Fushigi Yuugi are other examples of romantics that would be swooned over by the first nice act from a guy or hoping to gain attention from. In many scenarios these girls exampled reality behaviour of romance lovers like myself but it never got me compared to how Hinana was. Nana, Mikai craved the greedy of that ultimate relationship that would become everything to them at times that feeling felt too forced for me even though I related to the feeling, it was exaggerated like many things in romance genre. Hinana's desire for something to enter her life unexpected was presented genuinely, she was not someone who asks for much and entering into her romance mind gave her the smallest pleasure. The moment her unexpected desire of interest is peaked upon meeting popular young actor Kaede, leaves this feeling to steadily to grow beautifully. 
Their Fairytale  

I lived for every new stage of Kaede and Hinana relationship, the push of new reality into Hinana's life has the most obvious reaction, seems not real but Hinana has no experience in the dating department. Hinana's managing of Kaede's presence, her first relationship, challenges of dating a celebrity she handles it well. The usual freakouts happen with any new relationship but both Kaede and Hinana's logic towards it all had me stitches. Author Mikimoto created a great main duo with so much spunk and personality, the chemistry is hell strong and I haven't said that about romance duo in so long. Mikimoto's out there face reactions that sometimes look like Saitama from One Punch Man or comic style are such a different flare that liven up the interactions between main couple, they just really work. 
One good example is Hinana finding out Kaede is not just a pretty face but has a butt fetish, Hinana has quite the squashed sour face, hysterical art use that has me laughing easily. By the way butt fetish thing Kaede has it completely harmless and shouldn't be blown out of proportion, finding out Hinana is a closet pervert make you think the pair are perfectly weird together but this similar trait to me is normal who isn't a closet pervert. I loved this similarity, how it was presented: no big deal here. Hinana and Kaede have no shame and that was a big win in the end for me loving this manga. 
Kaede and Hinana bounce off each other super well and following their relationship turning into a addition. The Cinderella referencing with Miki's spin surrounding the pair with a modern day feel she made it work this damn author. It was an awakening to me that like Lovesick Ellie, I love shojo that exude the author's own spin on romance, tell a side that hasn't been explored before. In this case the day dreamers of love, romantics at heart that dream of a real love. That all these feelings we should not be ashamed of or feel guilty that we want the desired relationship, love we seek. Because you never know what will come along and Hinana had no idea until Kaede came along, slowly Hinana allowed herself to take a foot of the brake to embrace this new thing. Hinana's discovery of within herself from her relationship with Kaede is so warming, pure finally as they say "spreading her wings". Kaede was a good egg and enriched Hinana's growth of self equally she does the same, nothing went perfect for the pair, the reality of that only added as extra sugar to the sweetened atmosphere already. 
Kiss Me At The Stroke Of Midnight a cinderella fairytale love with a knock of reality that speaks to maybe your own desires and wants of love itself, you've been searching. Romance and humor are marvelously hand in hand, Saitama like expressions and others that example author Mikimoto's unique art style and presentation of story. This one not wasting non romance lovers out there, possessing all the these interesting new flavours that make this an ultimate fun, cute read. Don't wait till Midnight to check this out cindy romcom.
---
I love this shojo so much, ashamed I don't have all the psychical volumes yet, obviously before this year is out I will definitley prioritising this. 
If you got any reads like Lovesick Ellie or Kiss Me At The Stroke Of Midnight comment them below definitley will adding them to my never ending list! 
See you next post!! 
Lita Kino