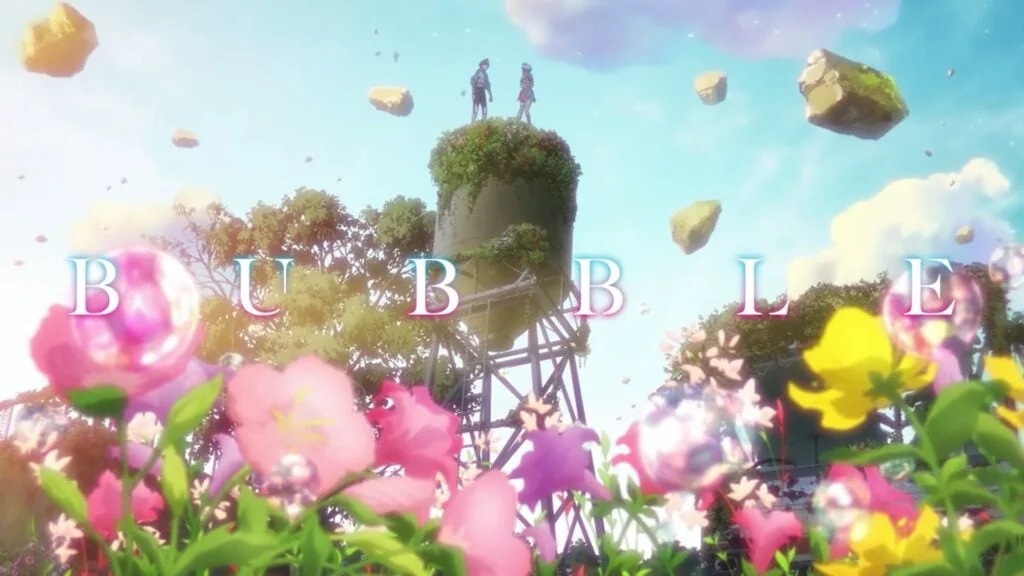 Oh yeah rolling up to newest on the scene for once but this was a case of watch this now or you never will.


---

"Living in a bubble" is for real here. 

I'm trying to be better at addressing my plan to watch list this year and also immediately pay attention to anything I'm interested in and press that play button before indecisiveness takes over. I was in 'dire' need for my mind to be taken somewhere engrossing and beautiful. The latest drop to the netflix anime section Bubble took me somewhere and let my mind feel relieved for just a while. 


Bubble well. . . was a mash up of many different things in no way was anticipating. Due to a bubble phenomena Tokyo becomes a shell of its former self attracting the young to go against the warnings and choose to live in this bubble Tokyo. Participating in parkour tournaments as a part of the winnings and trade processes, throwing in mysterious girl who comes the bubble phenomena and The Little Mermaid representation to tag along with it. There is no doubt Bubble was a seafoam mess you could easily not go back to ever, watch once that is you done with it. But for how I was feeling upon choosing to watch this, I felt messy on the inside, my mood was and that's why I enjoyed Bubble lot more than I should have. 

Moods can be a changing factor for your afterthoughts and you're own view point at the end which I feel is something forgotten. When there is lot going on it urges me to want to better understand the work and direction, Tetsuro Araki director of Kabaneri of Iron Fortress and Attack on Titan uses a lot of Parkour elements in those shows and in agreement with main writer Gen Urobuchi decided to make a forefront focus for Bubble. I like learning important facts such as to better understand because including parkour in this bubble environment make the visual experience an absolute treat.

Do we need to talk about the visual bar here because Wit Studio hit it before I've seen the thing. There is no doubt of the goodness creating shell of tokyo not feeling forgotten with time but lush haven surrounded by crystal water and glistening bubbles. People have described the environment for this film as a dystopia but I don't think was the aim for Gen Urobuchi upon creating instead a sort of utopia. Hope for the young who are mostly orphaned and creating these parkour battles as a way of independence for themselves. 




Parkour with epic, colorful visuals are Bubble's strongest merit by far, the plot and characters were definitley a mess especially this little mermaid referencing used for two main characters Uta and Hibiki. I am avid fan of Little Mermaid tale and the modern retelling Bubble did was fun and little poetically cute at times but wouldn't go far as to call out of this world. I have to be real though half through the movie found myself hooked on mermaid referencing bad especially one part. Uta quotes a lot from main mermaid tale and this felt really effective for a line she saids "Fear became a stranger to her" referring to herself/ariel. That whole moment sent a shudder down me signifying complete resistance to what once was holding them back. 

Bubble didn't burst my bubble of enjoyment it was something engrossingly beautiful for what it was even though complied of all these elements that don't quite join half the time. You either find the beautiful in works like this or you don't, visually everything was sublime 10/10 even the singing parts paired super well. Highly recommend to give a watch if your just for the visuals kind of watcher but otherwise if you choose to give a go, be nice and go in with fair eyes.


---
I got what I wanted out of Bubble, my messy mood definitley help even though I didn't know I was dealing with a messy movie ahaha. 

You checked out Netflix's bubble? do you think was engrossingly beautiful despite obvious flaws but were still pretty?

I'll see you in the next post!

LitaKino