I am so stealing this idea from Irina, wasn't initially not going to write it but after reading hers. No we're doing this. Besides my ideas get stolen from under my nose I have noticed sometimes?
---

I lost track second half of the year of the anime I watched, lucky Ani List is here to assist me. Reading Irina's post you can here, reminded me honestly I wanted to do this post but forget all about it. 2021 was a personally great year for me with anime. . . not so much first half but the second as I spoke about a post ago. I barely discussed any of the anime I watched in 2021 so this is the perfect overview, some of my favourites I truly enjoyed.
---
Violet Evergarden The Movie
I waited patiently for an entire year or whenever it would become available, then jumped on this tear jerker train so fast, before people could ask me if I had seen it yet. The most genuine tear jerker ever that exudes precious emotion that touches the core. The conclusion to Violet Evergarden exceeded my expectations going violet ultra. This anime is a mastery with emotion, film itself was truly a masterpiece for me. I was choking on my tears for five minutes, left a brief reprieve then begin again. That is whole journey you're on if you haven't seen this yet. I do wish to do my own spill on this film but my favourite anime film of last year!

Sk8 The Infinity 
You never expect much from series like this one about about a group of hot skater boys and their idiocy love of skating. Goes to show never judge an anime by it's premise, because this took seasonal scene by storm. This was an easy binge hard session, the colour of life swirls in this series everywhere. Fun is the perfect way to describe this anime no other because from hardly taking itself seriously and bubbly boys . This is a series for all to enjoy. One of the most fun series I watched last year. 


Amagi Brilliant Park 
Still making me way through completing all the Kyo Animation Shows, haven't looked for a while what is left actually. One I ticked off for last year, while I was not well that was a great pick me up Amagi Brilliant Park. The absurd parody and gimmicks that occur during the series has you in stitches, has that classic, clean cut Kyo Ani humour that I love so much. This works for the plot focus of trying to gain a certain mass crowd numbers before this fairytale real amusement park will close it's doors. An average, selfish school student is sure to save the day. This series is a mood and best comedic watch for last year. 


Sailor Moon Stars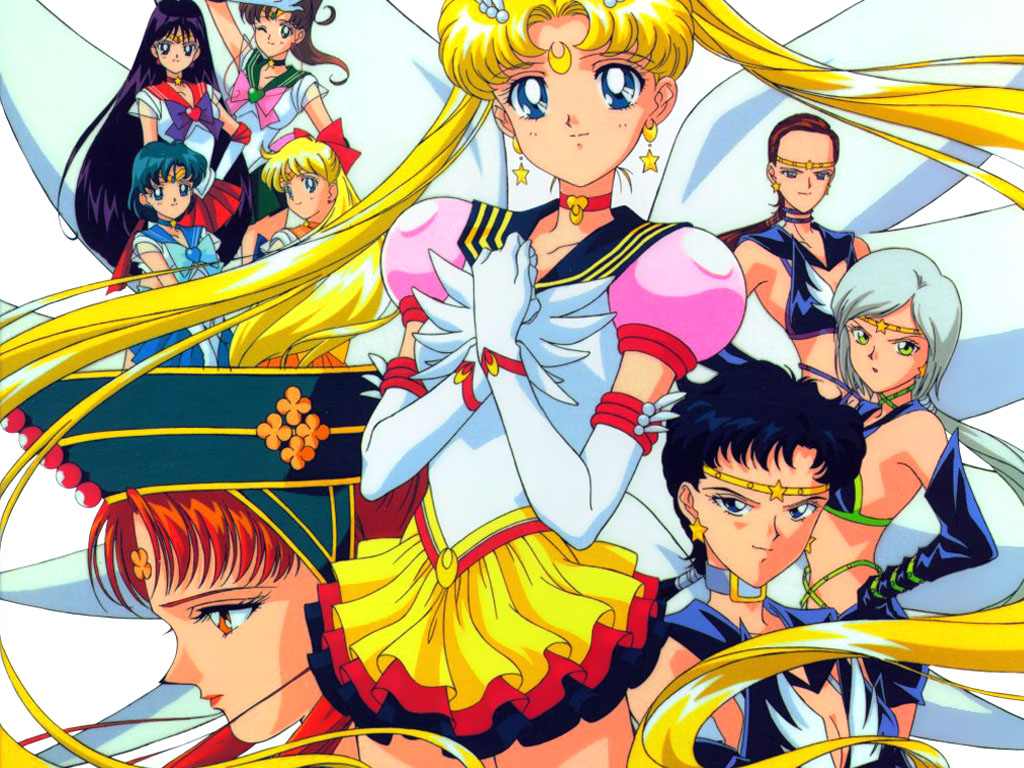 Pretty special long long milestone I personally hit last year finishing. . . . *sniffles* all 200 episodes of Sailor Moon. Before Anime Lab streaming service disappeared for forever, for first time ever on streaming service I binged last Sailor Stars. I never thought this final saga would receive a new home release let alone make it to a streaming service but thats how far the unexpected is striving towards the future of anime. This was my most special watch last year ending over decade journey, I'd like to talk about that for another post but best nostalgia trip for last year.
Vivy -Fluorite Eye's Song-

Vivy was a hit or miss I noticed for people but was a winner in my book. I couldn't remember the last Sci-fi I watched but Vivy revived my interest for it. First time seeing the visual image my interest was peaked and this series was a fascinating ride following an AI robot tasked with a 100 year old journey to stop a war between man and machine. The series diverted a different route from this and went on more focal point on main character vivy which was more satisfying outcome. I truly enjoyed the experience Vivy gave and my favourite character journey watch for last year. 
Higehiro: After Being Rejected, I Shaved and Took in a High School Runaway
I watched only a handful of seasonals last year and one that most surprised from Spring 2021 was strange relationship between a sixteen year old runaway and salaryman. First indications give away the impression "take advantage" but this series astonished me especially with the Yoshida main males actions and intentions. Showing a thing called human decency. For that reason made it into my favourites of 2021. A rare example among the romance genre definitley my strong recommendations to check out. 
One of the biggest heart stealer last year was some adorable horse girls. I started this on a whim as I was searching for a series involving horses. This was the closest thing I got, not the biggest fan of horse racing but this series made me forget about that. The horse girls were just too cute to make me worry about anything else, I've been putting off watching season two because didn't want to run out of this series. Special week is special.
The Aquatope On White Sand
Ah now this favourite should not come as a surprise. P.A Works always steals my heart and this was no different. One of the most anticipated for last year and god did not disappoint, it was last anime I completed for 2021. The perfect finisher. I held off for a while as Aussie summer was coming and the timing was spot on. Oh this series had me going back to the first time I saw A Lull In The Sea that same mystical essence surrounded in Aquatope. This is some impeccable work P.A Works has come out with in a good while and has earned a top spot in my top 50 anime for certain!~
---
There you have it just a handful of my favourites from 2021. I watched some other great shows like Haikyu To The Top, Attack On Titan Final Part 1, Jujutsu Kaisen to name a few. I hope to do better with my anime watching, I'm already off to a good start at the moment. Definitely will be keeping tabs on what I complete better too. 


I'll see you in the next post!! 

LitaKino