I'm trying to uphold my own promise to myself this backlog of tags won't be added to and I love the idea of this celebratory tag!
---
Here are the rules:
Choose a female (real or fictional) for every prompt.
Tag at least one female blogger. 
Pingback to Annie's Powerful females' tag.
Enjoy~


Apparently it was international women's day this week, I seemed to have missed the memo on. Dedicated days in the year like that, pass me by because there are that many. . . Meaning there is one for everything now. A stranger to no-one Irina san informally imposed on me to speak of celebrating some amazing women in anime. Was she trying to ruin my blog plans already for this week?

Well. . .

I suppose I can spare one scheduled post, this time round.

I'm all for a little women empowerment!
---



Name a female known for her intelligence

Shuueri Kou (The Story of Saiunkoku)



Irina tried to give concrete assurance by tagging me that I'll have a few things to say about some fine ladies. Way to set me up here, let's see who comes to my mind. Intelligent women practically are swarming everywhere but you know me I like to think outside the obvious popularity box. I have a lady whose intelligence was challenged constantly in an imperial court setting overrun by men who were biased and were stubborn to allow for any change. Shuurei the only daughter of her clan and barely getting by, she is made an offer to turn the tide, if Shuurei can interest the emperor of Kou in the politics of his kingdom, Shuurei will receive a large sum. After rumors float around the emperor has no desire for his country's politics and fools around with men.

The imperial court seems like a no place for a lady but Shuueri is not your run-of-mill lady. Shuurei's ultimate dream is to be the first female court official and has a hard track to run up to reach that desire. Shuueri proves in every situation her true capabilities from what she already knows and learns along the way. Working as an accountant for a brothel, teaching poor kids english, Shuurei isn't afraid of hard work. Ridicule for just being a 'woman' is slapped over and over in her face but Shuurei doesn't let doubt creep in from what is important. Shuurei is one of my favourite intelligence beauties I know, strong, self assured, knowledgeable, hardworking, kind-natured. You try and outwit her, prepare for a pitfall behind you haha.
---
Name a woman known for her physical strength
Mumei (Kabaneri Of The Iron Fortress)
Ooo and the following words you thought SAILOR JUPITER. She kicks ass of course and Irina looks like she has a hard time choosing just one selection for this haha. I decided to go with a new female love I discovered last year during lockdown. If the apocalypse comes and you need to hire a zombie killer: Mumei is your girl. This girl has some mad gun skills once Mumeii is in her zone, oh you want to watch out. Her steampunk perfectly compliments her look when she is spelling guts of the Kabane. Mumei is an unfortunate soul in the beginning being manipulated and used as a puppet for sicko's cause but when she found her place of belonging. I was so happy for her! 
---
Name a female who powered through difficult times
Sango (Inuyasha)


What female character in anime hasn't gone through crap. One that hurts my heart to think of is demon slayer Sango. In a blink of an eye her whole village burned down, her whole fellow demon slayer group killed in front of her by her own brother manipulated by a devious demon Naraku. On top of that Naraku takes Kohaku her brother under his wing as his puppet to do the dirty work. Embedding a shard of the sacred jewel sought after by many, keeping Kohaku alive, using him in front of Sango as leverage. Kohaku's memories are erased; he never remembers Sango throughout and all the horrific acts he commits unconscious to him. Sango dear. . . witnesses it's all.

Now not all ends up bad for her and no I'm not revealing anything. But when Sango is hurting, crying, that will be you alongside her. Sango is a resilient female, slaying demons with ease and this tragedy she has to deal with is horrible but only showing off Sango's adoration qualities, making her shine. A great use of tragedy turning us stronger for it.


---
Name a woman who you want to be friends/roommates with
Arte (Arte) 

I really wish the anime was longer, one can only pray. Arte really hit my inner art me because I may not look at it but Art is one of the things I am good at. I'll show you sometime. 17th century, a woman who wishes to be a look up female artist. Predictable Arte was going to have a tough time. Arte is not one to shy away and let her creative energy suffer that. Arte would be all the creative motivation I need. Those nights I'm drawing a blank writing a post, Arte pep talk would be all I need. Plus she can get me back to doing active artwork because that has been dead for a long time. . .
Creative motivator I'll ever need and she can skill me up in a range of artistic. 

---


Name a woman who you think is a good role model


Emma (A Victorian Romance)




I recently last year came into possession of the anime for this. Luck of the draw there. Truly this is a wonderful period anime piece, i need to tell you about in a post soon! Main Heroine Emma is someone who wants for nothing, someone who is eternally grateful for what she has been bestowed upon, given. Her mistress taking her in at a young age when Emma was most dire changed Emma's life and grew up with a great patience for things. Also privilege appreciation of what she has. Emma I found an individual who teaches us the importance of appreciation of life, never more than of the current state.  
---
Name a woman who deserves the spotlight

Kohaku Tsukishiro (Iroduku: The World In Colors)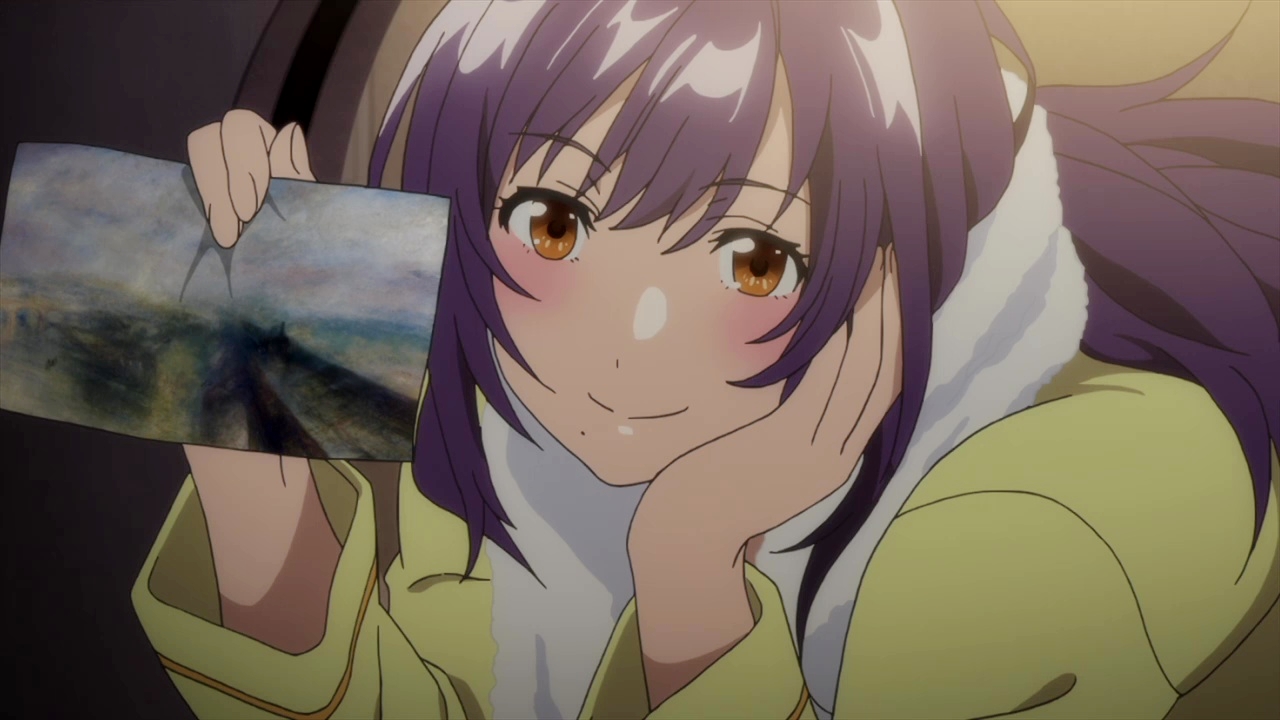 Oh look my favourite type of focus, how did you know? Now Irina struggled at the second question and it's my turn here. There are so MANYYY. But one that comes to mind that no-one would ever think of a caring grandma who only wanted best for her niece. Kohaku sent her niece Hitomi back in time to when Kohaku was seventeen herself. Hitomi was looking at life through a dull lens and Kohaku wished only that Hitomi would realize the fullness of life. Though she knew Hitomi might resent her for it.

Even though Hitomi encounters her grandma's seventeen year old self, both are one in the same person. Kohaku has an optimistic nature towards everything around her that just resonated close with my own optimism. Also Kohaku's loving, giving energy in regard for her family. Kohaku only constantly looked forward and backwards, that kind of mental strength she had makes her deserve this spot.

---


Time to name some ladies to shine us with some women empowerment for our anime gals!


Sushirainbow – Christina I'm grateful to meeting in the past year and is a fantastic influence over me in a positive, enriching sense.

TwoHappyCats – Steph one of my closest friends I've met through here how can I not tag her here!


Please feel free to comment below some of your underrated women of anime. I may check out the anime if you just tell me a name. . . no most likely that will happen haha. P.S watch out for Irina's imposing.


I'll see you all in the next post!!

LitaKino