Some people care about there birthdays or they don't. I care about this one from personal level as a fan of anime, so here we are inspiration thanks. haha

*Ding Dong the clock strikes*
It's celebration time right?
I'm literally writing this an hour before midnight but I'm feeling that blogger itch, also nostalgia. This year I'm turning a particular age that recently has me reflecting on aspects of life, course one of those areas that hits is how long I've been a fan of anime and my own journey with it. I've spoken many times before, I truly didn't get into anime until 15 from moving countries, so think about were in 2020 now, you do the math there. I initially wasn't going to mention or write anything about my birthday today but the inspiration bug bit and really squeezing this in big time haha. I've always know anime would be huge part of my life but I'm truly realising that now. I wanted to reflect little here on 5 things that have affected or altered me during my journey with anime.
---
Slice Of Life Genre Is My Dice
2016 is when my opinion of slice of life genre was forever changed. I've mentioned this before in another post but still so relevant to this post. One series projected to me the verticality addition of the genre and how anime about life in general leaves an inescapable personal attachment to you, leaving hard to forget. Amanchu premise of a girls friendship over scuba diving and coverage of anxiety theme is something wholesome and beautiful. A series that immersed me within it's calm waters and never have wanted to leave since. Since this time, I've found a growing desire for more of slice of life genre, seeing the flexibility this genre possesses in different settings.
---
Always The Old Over New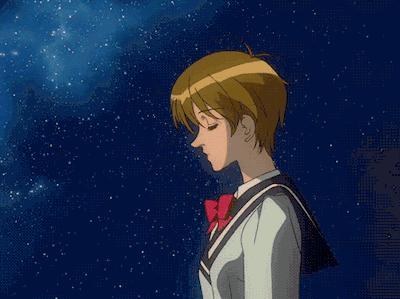 Anime doesn't feel like this far off closed thing anymore for how big it's developed over time I've been fan. The Vision Of Escaflowne was my true starting point for older anime vintage and what I prefer to watch over the new stuff of today. I love all the shiny new shows that come out every season but they are never on my first priority list anymore. All these rare old gems that I never grew up take precedent for me but I make a comprise of watching old or new at same time. Older anime is something that should be constantly mentioned and discussed for future, it's just important to remember the roots of origin. 
---
Learning To Drop 

I always believed in giving everything a fair go and I still do. Dropping any anime I wasn't interested in and would continue on with tears in my eyes of no is not something I do no longer. The times putting myself through watching something that I wasn't invested was big waste of my time. I wanted to be a good anime Samaritan, which is impossible to be. YOU cant like everything ahaha. I don't particularly have a cut off point like watch three episodes if I'm not into, I drop it. I just stop no matter how far I'm into a series, Hunter x Hunter 2011 I got up to 76, just stopped. It was not my kind of shonen. Learning to drop shows and invest your time into things you truly are interested in instead of for half ass interest is truly important to me now. 
---
I Need Physical Copies Of Favourites 

If there is one thing that has never changed is the collecting anime. But over last few years the desire to own series I've really liked has upscaled. This year I've found few shows I actually want for my own like Cells At Work, I need that body anatomy cuteness. Worth less invest to buy shows you only just liked and didn't really LOVE LOVE, make you drool love. Probably why my collecting is so slow these days but every investment for last little bit has been worth build of collection of life loves. 
---
Mood Watching Over Planned
I'm still a anime binger over weekly watcher that hasn't changed but since I started the blog what did was planning what to watch instead of going by my mood. This worked for me up until short time ago where I got to a point of "nope". Planning what to watch made me feel organised and gave me something to look forward to but now.  .  . I take one look at my ani list and point to what I'm watching and pick on mood basis. Something it is completely random, even now my watching is so sporadic. Even though I prefer to be bingeing than watching an episode here and there. For example I prefer to watch slice of life of series during lunch or breakfast. I like to save any action or upbeat series for evenings when I can give my undivided attention.
Also when you get older you do get lazier hahahaha. 
---

Guess I couldn't resist writing something for day of all days here. Mostly biggest thing I've realised is what I should be prioritising to watch, wholesome things, shows I've avoided etc going forward for myself. A lot has been put into perspective but anime is forever over here! 
I'm ready to party hard now! I'll be celebrating don't worry! 
On that note, I'll see you in the next post on xmas eve then I'll be back in new year ! 
Till then friends! 
LitaKino xx