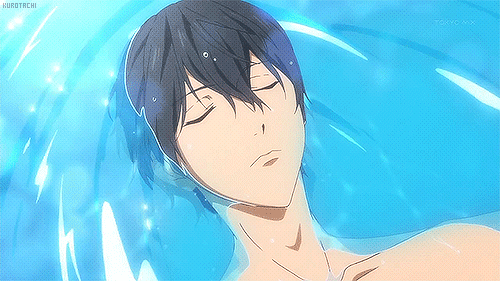 Summer in December is like magic to me, just as Winter is and I like to remain close to that feeling with summery series. 

I say if you ever get the chance in life to experience a warm Christmas, you might like it as I've come to. My mind is double buzzing in December, Summer and Christmas and when I come to revisiting anime that immerse me in clearest waters and I feel the summer essence everywhere I go.
Summer is on my brain all the time, it's double dosage when December comes. haha. 
---
Nagi No Asukara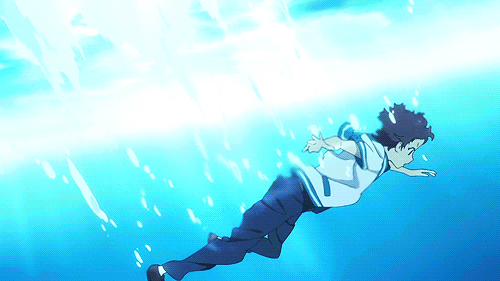 Ah I have so much love for this series, but you probably have heard me dote on for ages now. Currently I need to finish my rewatch, I started back in September and never finished. I'm planning to do a revisit piece on Nagi for either this month or in January, exploring a second time round experience. Watching first half when I did, my strong love remains very strong. Nagi No Asukara rip tide pull has to only tug me gently and I'm immersed in this series holy. The number one series I do think about whenever I'm at the beach. The most unique aquatic setting I've seen in anime yet and water visuals I can't deal with searching on google images. 
Free 

What do you want me to say here. .  obviously. Kyoto Animation water visuals kill me, group of swimmer boys I didn't think I would fall hard for and music backings that kill me too. That's how I feel about Free in a nutshell. I think this is one of the most fun and best things Kyo Ani has created for themselves. Free every time, makes me want to go swimming, it gives me motivation. I've gone at 6am once from watching it night before to swim, I felt crazy but you need to go with the good crazy sometimes. Free reminds me purity power of water itself to drown out all the pointless negative, to be still in the moment floating there looking up and feeling the serene. 
Amanchu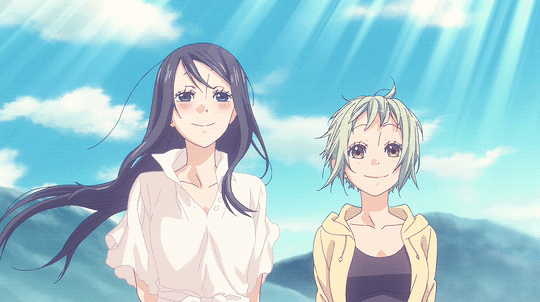 Scuba girls friendship and of the water is all the summer goodness I could need to just relax with. Amanchu is just an absolute delight to watch any episode, feel catered to gorgeous water visuals and hilarious cast of characters. Following their daily fun of the scuba life. Futuba and Hikari form a sweet and tender friendship, suppressing Futuba's anxiety slowly, showing her to embrace all that is around at her. Amanchu delivers on diving into the new of things and to not feel held back. I just want to try out scuba diving now, "Anime made me do it" scenario. haha. 
Honestly these are only three series that bring out those summer vibes for me. haha. I hope to grow this for the future. Much undiscovered out there. 
---
Christmas Song And Food of The Day: 
This song only came out last year and truth: not the biggest fan of Taylor Swift. BUT this song got me instantly and it's a joy to listen to. The lyrics are wonderful describing Taylor's childhood and living on a Christmas farm, she has a lyrical talent for sure in her song which I do like. This Christmas song feels modern and fits in with the now to last for years to come. If you were wanting to look for something more upbeat!

Prawn cocktail? I can see some may have never heard of such a dish. It's a been a British classic since 1970's and reared as an easy serve item to guest for any occasion. This has been a long Christmas tradition since I can remember, I've come to love it even more having warmer Christmas's. It's a very simple dish, the basics: shredded lettuce, tomato and prawns. You can vary this however you want sometimes I've added avocado which is nice. The sauce is why it's called prawn cocktail, ketchup and mayonnaise. That sounds disgusting doesn't it? haha but it really is a unique taste and tangy goodness. Definitely having it this year again! 
Do you have any anime you like to watch at Christmas?  I actually plan to rewatch Yuri on Ice because it's been a long time since first time and want to see if I still like it from back then! 
Hope you got some summer vibes? maybe? from this post and you can imagine what a warm Christmas may be like. and it's looking like a post will come out every second day as a heads up for you all !
I'll see you next cheery post!
LitaKino