October is spooky and full of spring? What am I going to do about this?
*Wrote this on 1st October but ran out of time* 
I woke up today and thought it was still September. Google told me were in October and just fell back onto pillow staring at ceiling. Not much you can do about expect just go along with flow how fast things are flying. Honestly didn't think I would even be feeling any seasonal feels towards end of the year but lucky anime and blogging keep those feelings alive. Especially for spooky Halloween, I'm not a Halloween person at heart, Australia doesn't celebrate it big here. Despite that I am feeling the spooky along with a mash of spring fever. We're in pinnacle of sunshine days and fresh grass while rest of the world is in pumpkin spice lattes and autumn leafs. Very strange time of this year. 

Spooky and spring both is good.
Last October I was heavily focused on manga as I participated in a readathon. Very fun experience but I'd like to get a few shows within realm of spooky something, most have been on the "anime I've avoided for years" list. Definitely not planning to go crazy here, not aiming to get through them all if time is not viable. I wanted to share where my anime watching will be heading this October with you all regardless. I hope to do a wrap up something by end of the month or individual posts will follow. 
---
Inuyasha Rewatch and Sequel BITCH!!  
Right now I'm in the middle of my Inuyasha rewatch about to reach final act conclusion. I began in September and it's taken this long. I remember watching this series for first time and time was not a worry to me, why is it when you get older it becomes that way? Ughhhh. Inuyasha has been one of my all time favourites for over ten years and the current revisit reminds of why it is. I didn't even know leaving my rewatch till now was best decision because what dropped in May: Yashahime: Princess Half-Demon *jaw dropped* 
My jaw dropped people, it still is that way. A sequel . . .  their children. . . There was more running through my brain and I can't process anything. I can't believe its even happening and I'm alive to see it. My god. . . insane. I am not watching first episode till I've finished my rewatch, I want this to be a perfect. You can bet you're ass there will be a gushing rant post on first episode within next week. I'm stupid happy and writing that alone can't convey my feelings to you all. 
---
Fate Apocrypha 

Fate Stay Night is only fate anything I've ever talked about expect for first Heaven's feel movie, that was a long time ago. I've been meaning to check out some of the other fate adaptations, there's that many it's crazy to me. Fate that began with 2006 adaptation wasn't big years ago and now insane how much  franchise has expanded outwards. I could google a chronological watch order but where would be the fun, if you ask me I say stuff that process. Haha. Fate Apocrypha I'm prioritising first because. . . Netflix. Never know when that will randomly disappear. I like the sound of this holy grail war, changes to the system and wish to see in general how this franchise has expanded beyond what I've only known till now. 
---
Terror In Resonance 

I knew I wanted some thriller something in the mix and with a terrorist focused plot: Terror In Resonance. I'm ashamed to say this series has sat on my shelf for past nearly two years and finally going to get to it. The only Shinichiro series I've seen and liked was Samurai Champloo, Cowboy Bepop didn't get past episode 3. I'm hoping this one will work out considering the fame surrounding around Shinichiro. Let's hope! 
---
 Parasyte The Maxim 

Parasyte has been on the list for too long and a show I'll be going out my comfort zone. The look of that one eyed alien was enough to avoid but I'm ready for a stomach turner. I just get the feeling it is. Definitely feel I'll be in for a entertaining time and it's just one of those anime, time to stop avoiding. I sat through Psycho Pass last year and I'll be surprised if this is more disturbing. 
---
Spring But Spooky Choices
 Natume Book Of Friends S1 
I wanted something to break up the heavy shows so seems a good time as any to give this slice of life, yokai favourite a go. I know some people are going to be very happy seeing this, haha. I will be watching this during breakfast and lunch time, this kind of episodic anime is perfect for times like that. I would like to check out both anime and manga both rounded to be very good. I love Yoka-themed series like Kamisama Kiss, Kakuriyo: Bed and Breakfast for Spirits and Natsume falls into this bracket for me. 
Wandering Witch: The Journey Of Elaina 
I haven't watched many anime about witches, last one I saw was Mary's and Witch's Flower. Which was adorable but I'm sad there aren't many anime series about witches solely. Fall 2020 delivered a rarity: slice of life witch journey, *raises hands*. This is literally most perfect watch for this October and looks like serene time. I hadn't planned on watching another seasonal besides Inuyasha sequel but I can't ignore this rarity. 
---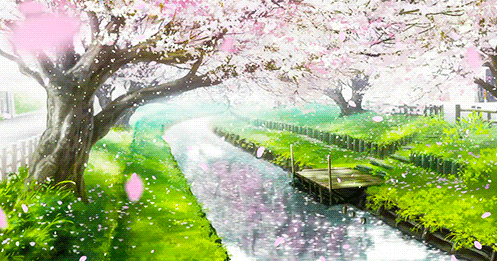 I should have put a picture of autumn but that's weird for me just like you'll think other way round. 
There are my spooky but spring watch plans for this month. It's been forever I did a post like this but only because I've planned out things this time. Be nice if can get to everything, next half of the month I'll have bit more time. For now seems Sundays and Mondays I can make blog time so assume there those days something will come out. 
You can let me know if you plan to get to a spooky show this month off your "avoid" list like me. But I wouldn't be me on that, haha.
I can tell you for once my next post will be on a anime I recently watched, so something for you all to look forward at least from me. 
I'll see you all in the next post!! 
LitaKino