Drama talk is returning? I did state this in my recent blog update and stoked bringing back another medium I love as much as anime. The shiny new usually steer clear of 2019 Vagabond is a hot minute, if your adrenaline junkie.
2018 was last drama talk post I put out, announcing no longer would be covering this interest. The main excuse was is rather poor: having to copy and paste actors roles, names all the time. Please laugh at my ridiculous reasoning but tick off also timing, I just wanted to enjoy dramas.
That was then.
Since I got into dramas back in 2017, my game is different now, problem was I just didn't know a thing then. J dramas focus on anime adaptations mainly, Thailand, Taiwan, Chinese dramas are a thing, K dramas are prime stander. There was so much to learn but I feel up to speed now. You know, seeing on the blog I'm a romance junkie, who knew 80% dramas cater to that, why I got sucked in quickly. Dramas are where I come for a fix now, because sometimes romance anime can feel lacking.
I'm happy to splurge my drama thoughts on the blog with new confidence and addiction. Wanting to make more time for this genre indulgence and recently stepping out my usual: Action, thriller 2019 Vagabond.
Episodes 16
Korean Drama
Can Watch: Netflix,Viki
---
Cha Dal Geon stuntman and martial artist raising his dead brothers nephew Hoon after the mother abandons him at a orphanage, is scrape by day struggle. Hoon with his Taekwondo team while travelling to Morocco are killed along with everyone on plane. Chal Dal Geon learns the shocking truth that his nephews death was act of terrorism and apart of a higher up corruption, between two companies Dynasty and John & Mark, maybe the government. Chal Dal Geon joins up with NIS Agent Go Hae Ri and NIS to discover the truth and awful corruption involved.
Action Thriller Alright
My first taste of action thrill was 2014 Healer (PLEASE GO WATCH THAT) building to criminal, thriller plot mixed with romance, my cup of drama preference. Vagabond has perfect doses of each element making for epic rollercoaster. Getting this out of the way, Vagabond has the best action I've ever seen in a drama. Almost on the level of James Bond but Korean style. You expect good action but I wasn't prepared for intense gun stalemates and explosive car chases. The underlying enemy had a new trap ready to spring for Cha Dal Geon and Go Hae Ri at every turn. The enemy was meticulous throughout and devilish energy was strong.
It wasn't until episode 3 or 4 I became invested as the start is slow to set up but episode one demonstrates the action you'll be treated to, increasing throughout. Vagabond has you're engagement in palm of it's hands.
The acting was solid as and fantastic choice of cast. I'm always discovering someone new and reunited with an old face.
It was wonderful to see Bae Suzy again, seeing her first time in Uncontrollably Fond. Suzy has this fun free flow when acting that captured me and crack up humour. Seeing her in a serious role as agent was breath of fresh air, the girl can play badass bitch anytime. But Go Hae Ri was half ass agent at point, which was funny. Every actor played their roles to perfection, the air of corruption was positively, wonderfully evil. I just picked out the highlight roles here.
Corrupt Either Side
Looking at the term Vagabond: a wanderer constantly on the move, drifter of place to place. This drama captures the definition brilliantly Chal Dal Geon lost his home, moment his nephew was killed. Everything else became irrelevant and only embarking towards the truth Chal was left with, to keep him moving on. Revenge was in the mix but the truth became truer, deeper Chal dove into the level of corrupt. Falling on two fronts government and terrorist corruption, exampling those with all the power, can be no better than a terrorist. If anything this drama highlights, the constant political ill conduct and scandals uncovered on a regular basis.
Morally whether who believes wrong or right Chal and Go Hae Ri in their own right, believed Korean people deserved the truth and victims families. No matter the consequences of this risky choice. For what we believe to be morally right, you can only follow that feeling when left with impossible choices.

Romance and Season 2?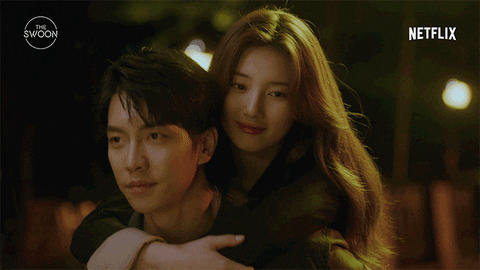 Romance element takes a backseat until last few episodes, Chal and Go Hae Ri have a few engaging, lingering moments of sweet. Season one is the get to know you set up, things only began to blossom right at the end. The seasons ending indicates were not even at the pinnacle of real action yet. By the end of episode 15, I anticipated for a cliff hanger end. . . ahh but it's a good note to finish on. Waiting in a good sense, but I get the feelings from reviews I read not everyone loved it. Only partial truth of corruption had been uncovered and I knew we hadn't reached the nitty gritty friends. I'm confident we're going to see the return of Vagabond, getting into the real dirt and a romance about to take off, it's all there.
Ignore what people say about ending, a ridiculous disregard for Vagabonds frenzy, addicting action and immoral, raw plot of twisted corruption. Vagabond was what I needed to switch my brain to feel the good thrill.
You can watch on Netflix and Viki!!
---
It almost hurt me to admit Vagabond action was better than Healer but it's undeniable, ahh (my heart).
Hope you enjoyed my thoughts on Vagabond and check out this action thriller for yourselves drama lovers!
If you know of any other action thriller drama recommend some below, and If you have my Drama list, follow me here to see what I'm watching. Better yet I'll add you if you have one.
I'll see you in the next drama post!!
LitaKino