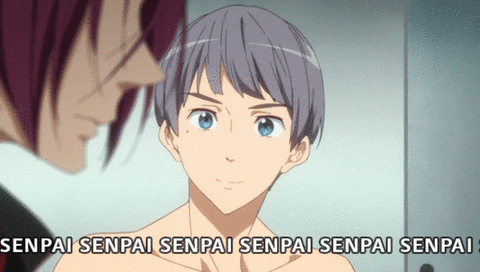 In every community/fandom we all have someone we admire, respect for either their personality, content. Every reason is individual. There is no greater boost from those "senpai influencers" getting to talk with them, commenting on your content, recommending, making suggestions to you. This constant positive of connections is great but even holding the highest regard makes an obvious point forgotten.
I'm Not Extra Special
This discussion is directed to anime content scene but applies to all who create content about different fandoms. I've never addressed fact before that with this wonderful anime blogging there are dear friends and fellow bloggers, who see me as a ray of sunshine. Irina making known to me I'm her senpai, THE PRESSURE *head explodes*. Beyond flattering to receive high regard others hold me in and showering with positive praise. Making anyone day from a comment someone leaves on our blogs, youtube channel or praiseful remark made during a conversation. If we didn't do any of this, no community would have a heart I think?
The grateful love and praise of others either runs to your ego or being forever humble. Majority most are humble option which is good. Humble is best response letting validation wash over you. There is not a single person on this platform that doesn't seek to feel validated but it's weird to say, the odd side affect of: validation over pour.
Makes me happiest to know after 5 years blogging, people read my stuff, connections I've made and follow my rambles. Going down a notch here as great all of that is, I've faced the feeling of expectation from personal growth. People begin to expect certain things from you how little or big that is unless followers, friends tell you that. Expectation and over pour validation of others leaves lost in the equation an obvious fact.
I'm a fan. I'm a fan of this fandom like you. I'm a novice.
No matter how much you admire you're "senpai influencer" for their content or personality, whatever the reason: Remember they are a fan too. I started this blog for my own intentions and throwing out my sporadic thoughts. Who knew so many would be swayed by my words to watch an anime or read a manga. The role of an influencer is important those who see such a person as, how would hype and excitement get around? I'm glad my words and content are held in high regard, having influence over others. But doesn't make me feel extra special. No-one likes an exploded ego.
My word is not law like others take from their senpai influencers unless they know their stuff. Even then all the knowledge in the world can't dampen fact, whoever senpai is a fan like rest of us. My own approach towards anime and social media is constant excitement, brings me joy to get fist pumps going and positive. People may perceive you as they wish from your content but among all the glow. Don't let others forget your'e a fan much as next.
Probably sounds stupid to be writing about such a thing but from what I've seen on twitter and instagram individuals following their influencers. People idolise so much to the point of their expectations not being met and people reappraise what they are doing, which is suppose to be a hobby for them. It's ridiculous getting to such a degree. It's appealing to include followers in what post or video they want to come out first from you, you've slaved away on. Doing that all the time, Where do your own wants go?
It's a tricky divide to find balance between your own satisfaction and your followers but always put yourself first. I'm happy to be of influence those who see me that way but remember I am a crazy anime fan girl who spouts random crap, that is entertaining apparently.
---

Don't take everything I say here seriously. Continue paving the path of positive with those senpai influencers you adore but seeing within anime community. People seem to forget their senpai's fans much as them.
Do you see what I see on this issue myself? if you do leave a comment
Lita Confession: If I influence you to watch an unknown anime, I get a massive pleasing kick out of it. you know I'm about those unknown guys.
I'll see you all in the next post!
LitaKino