Feels weird to be at my computer blogging it's been a bit, I've been taking time, all the time for just me and anime. Among massive chunk of anime I've watched recently, Kase-san and Morning Glories the most wholesome watch in a bloody while. *face flushes*
OVA
60 minutes
Studio Zexcs
---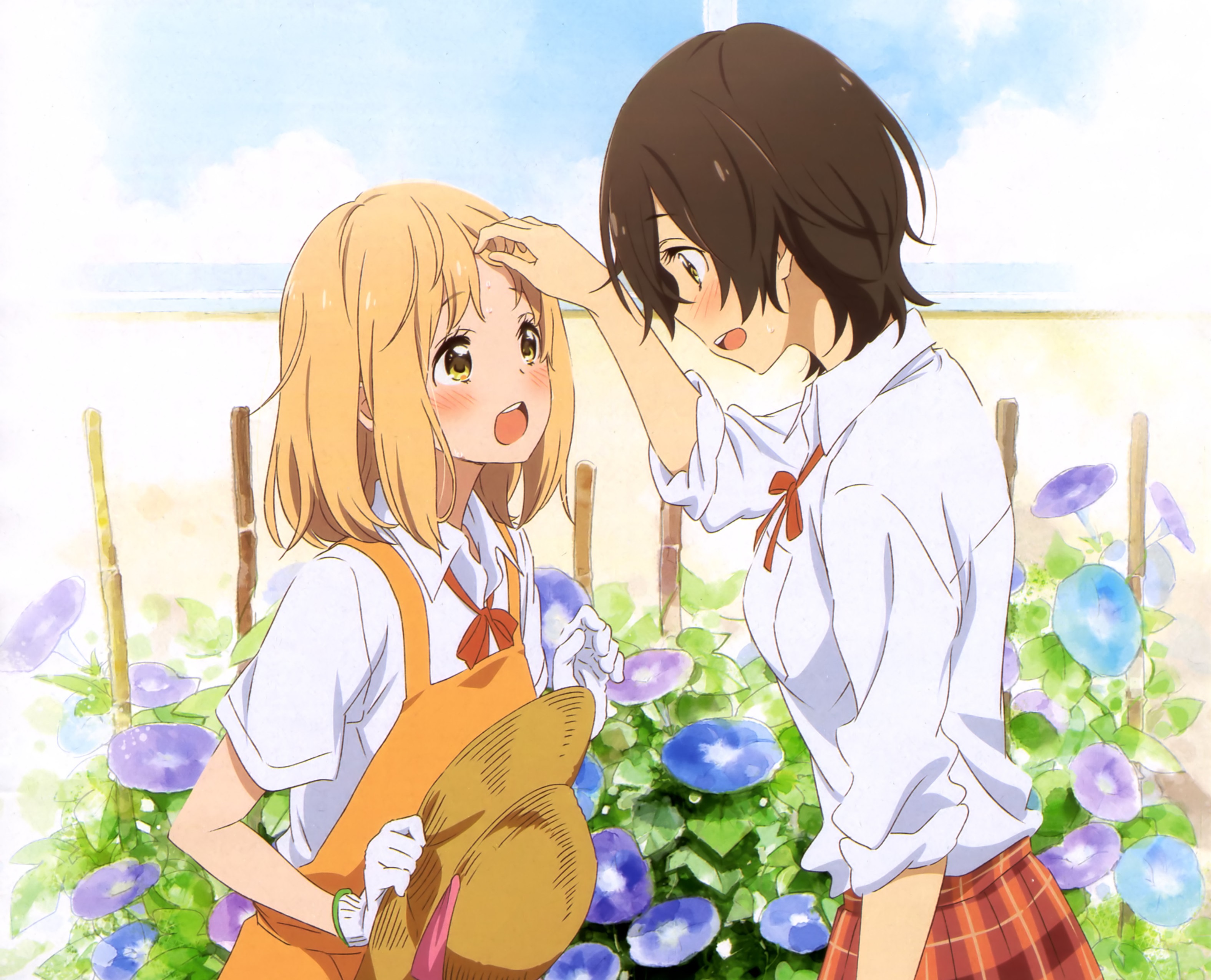 "Kase san smells like lemon grass"
---

Wholesome Yuri
Kase San and Morning Glories is the most wholesome yuri both in manga and anime I've come across. I'm not leaving to say this at end of the post, needs to be stated strongly, now because so you know how much I LOVED it. The problematic problems both in yuri and yaoi relationships, the majority never being treated in earnest or genuine standing. Of the fewer exempt from this, Kase San and Morning Glories is a blessing, showing the genuine is there but toppled on problematic troupes – that don't mesh with everyone.
Yaoi and yuri as problematic relationship elements are in different series, I like that dark side of it if such where my mood is at. But I understand high regard of representation individuals crave within these genres, especially those who yearn for genuine and charm factor without excess explicit factor. Either if you read manga or watch OVA to Kase San, you will feel fulfilled in either sense. It's saddening OVA is only an hour long. . . but were just greedy over here wanting 12 episode series, you'll be me after witnessing the wholesome goodness.
Shy Yui tends to the school greenery while Tomoka flourishes on track and field, a worlds apart dynamic of shy and popular that I never seem to tire of. If the chemistry is high and strong, there should be no compliments. Tomoka and Yui are sweet novices to dating scene and I love episodically approach sharing the pairs many treasured first. Yui treasures everything the most, her squeeing reactions and personality make her such an endearing female. I can't even pick a favourite moment the girls have because every single moment is warming.
Yui and Tomoka have a few stubbles one being 'A' typical Tomoka is too popular scenario for a shy girl like me. But all is rectified smoothly. Handling of scene involving Yui seeing Tomoka body for first time and comparing her own body image was handled with good direction. Showing Both girls are self conscious individuals in different respects but Yui is the delicate one. I love though Tomoka prefers dating girls but becomes more self conscious when dating Yui. Tomoka has the tomboy essence but seeing her dorky, clumsy side from being with Yui, reiterates how more conscious she acts around her. Tomoka is confident but clearly Yui brought out the awkward for Tomoka.
Yui and Tomoka relationship is only half of wholesome, the other goes to the pleasing, PLEASING visuals. Studio Zexcs another unknown animation to me, Zexcs has a straight forward style of animation Say I Love You demonstrates this best. Where watching Kase -San the animation fairly similar to Diabolik Lovers series, this watercolour brush effect. In Kase San the watercolour effect was used in backgrounds especially any scene with flowers. Because this series is episodical, before entering into a new scene, Yui is quoting "Kase san likes or is like". One sequence relates to Yui loving Kase san smells like Lemongrass, so you'll see plant drawn in watercolour effect. It's a pleasing combination before you enter into another stage of Yui and Tomoka's blossoming love. It shows how Yui treasure Tomoka dearly.
What stole the wholesome for me was Morgan Berry as Tomoka and Bryn Apprill as Yui. THE DUB IS SO GOOD, casting choices for these cuties was perfect y'all. Morgan Berry as tomboy Tomoka. . . my heart stopped so many times. Morgan captured a grand balance of tomboy and girl characteristics in Tomoka character. I find it hard to explain the tomboy definition, I'm no expert but Tomoka presented that masculine in a protective fashion towards Yui. While important moments outlining Tomoka still has her feminine traits. Tomoka has the perfect balance of these factors which is why she is my first… tomboy crush. You can give up Tomoka for a day, hey Yui?
Heyyyyyyyy?
Bryn as Yui just was match in heaven, I think she does the cute and innocent roles the best. The dub truly brought these angelic girls to life.
Kase san and Morning Glories you won't be wasting your time with, wether your a fan of yuri or not, this a perfect watch on either side. There is no denying the wholesome factor here, either watching OVA or manga it's all so good. I've found a new yuri in my top 5 now.
---
Feel free to send anyone my way saying this series is not wholesome, I'll sort them out.
Hope you enjoyed my thoughts and next time you need an hour to kill or fulfilment factor. Turn.To.This!
You can watch over at HIDIVE!
I'll see you in the next post!
LitaKino