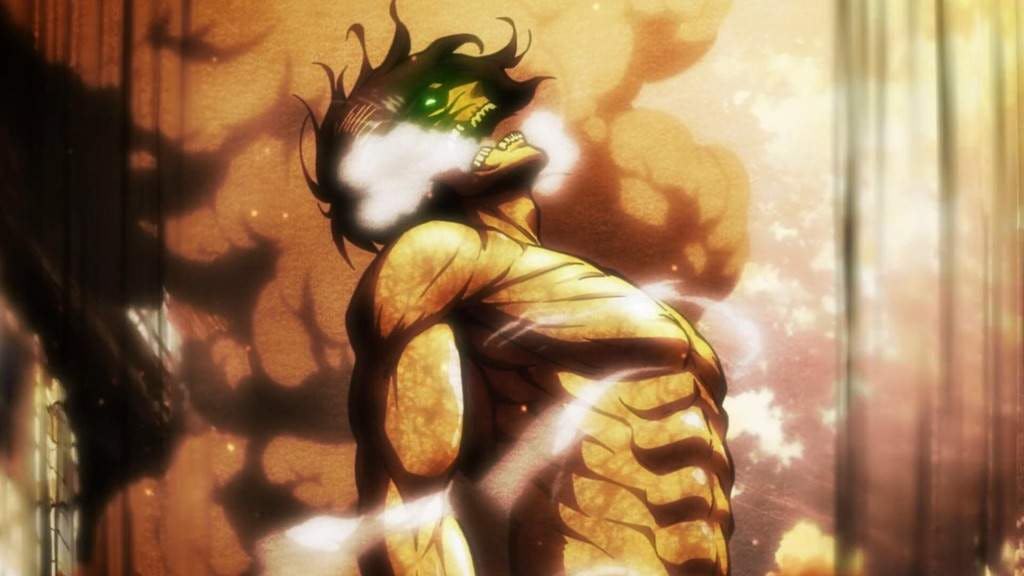 Thanks to urge of introducing to couple of friends. I couldn't resit to restart Attack On Titan finally make it to current season 3. Going back to start redefined past feelings on controversial green horn Eren Yeager.
Disclaimer – These thoughts are based from season one, not whole series as I haven't seen season 2 part two or season 3.
After past 2 months of weekly anime nights on screens, finally yesterday me and my friends got to hang out in person. What was on our agenda? Anime night with your favourite people is the best. Attack On Titan fitted to my friends tastes to a T and binged good chunk of first season, thereafter I wanted to continue on for myself. I didn't want to ignore the mindset flow I was on to finally catch up to the series. Yes, oh yes never did I catch up seasonly when season 3 was booming, others could call me crazy all they wanted. I had a philosophy of saving particular shows for later. My priorities of watching has changed so much, do I need people tell me that? No. 
---
Insane Intensity 
My restart watch currently I'm finishing season one and insane impact this dystopian makes within first few episodes is strong as ever was. Attack On Titan even now reins supreme on that hype train from first airing in 2013. The buzz back then was enthralling excitement, the first episode one of the best attention grabbers, third time round now same happy washes all over. An old controversial crept up during this revisit: Eren Yeager.
People's dislike for his character I remember back then stemmed from his selfish resolves and immature supremacy over others. Eren wasn't on my favorite list at first, Mikasa, bitch Annie, Jean, were running in front. More we watch, more our first thoughts from a first impression can reform. I appreciate the mindset I've built till now, all the anime I've consumed and only to keep growing. Giving chance this watch revisit to reanalyse Eren's character and: I love this gutsy greenhorn.
Eren has a furious nature from beginning but only amplifies continuously, witnessing his mother become titan fodder. This is a guy you tell to take a chill pill, only spitting back in your face. A little defiance and hostility never hurt anyone, Eren's whole character complex. Rewatching the scene of him becoming a titan bore this new ferocity ignition, Eren becoming even more intense. Every character in the series has their own driving resolves but Eren's is on another level of intensity. Constantly emanating, in titan form, insane intensity syndrome kicks in. It's adrenaline rush watching Eren in titan form, the drive to kill every titan in sight no limits seem to barricade that down.
I like character who tell like how it is, Mikasa scolding Eren is sensible and logical. Eren's approach is provoking but with strong intent and truth. Saying before thinking works better for Eren than other way round, if it was he would be boring to me. Eren hold back on his thoughts, I'd think he has gone crazy. Green horns are naive but speak from a place of genuine truth, a trait Eren gives off so well.
The weakness of a furious intent character like Eren, everything becomes a blindspot too late to see coming. Sensible focused Armin and Mikasa constantly playing mother over Eren. Despite this fact, thus far no character has more sheer will and deep intent than Eren does.
Green horns are either trump cards or a liability. I won't be able to decide this till we reach the climax of season 3. No matter what happens Eren character I found a new reaffirmed love for, the insane kind, haha. I have no idea what awaits me to reaching season 3 regarding Eren, if he will grow up or remain in never land. 
---
Now that my Eren thoughts are out there, time to get back to my titan binge. Fair to admit also Eren's furious intent is kinda hot I find?. . . maybe we should stop writing now.
oh? my friends are titan brainwashed don't worry *winks*
Good to be back writing on here and I'll see you all in the next post!!
LitaKino