I meant to get this out the day after seeing the film while things were fresh in my head. Nope that didn't work out but Madman surprised the Aussie land and New Zealand bringing Makoto Shinkai's newest work to our shores early . . . course I had to go see it.
Japan is going through abnormal rain phenomena, minor Hodaka has runaway from his isolated island home and moves to Tokyo. Hodaka struggles to keep afloat, being too young to work, aimlessly loitering in the tokyo backstreets. Feeling lost while sitting in cafe a Hina spots Hodaka as a runaway, feeling pity giving him a free meal secretly. Things begin to look up for Hodaka, from nearly falling off the boat upon arrival is saved by Suga, who gives his business card if Hodaka requires aid. Hodaka seeks out Suga and is offered a job as a assistant for Suga's magazine company. Fitting into his new role Hodaka and Natsumi (Suga's counterpart) chase up a rumour of the 'sunshine girl', who can control the weather. 
Hodaka and Hina encounter one another again, where he discovers Hina is the rumoured girl with the power to stop the rain and make the sun come out. The two embark on a business venture together using her power but things always have consequences.
---
Weather Casts And Enlightens 
The first thought that came to my mind when walking out the cinema was "Little April Shower". Have you ever seen Disney's Bambi? There's a scene Bambi and his mother are about to sleep but then begins to rain. Bambi experiences his first 'rain' and the scene breaks out in song known as "Little April Shower", it's an addictive tune I've never been able to get out of my head. This scene has always stuck with me it's just so cute to watch, how the rain trickles over the leafs and showers earth below. One of earths major elements the rain symbolises many things, as a storm indicator, renewal of energy to humans, plants and animals, a sense of loneliness.
Depending on the season, day, mood rain brings an impact in different ways in Weathering With You gives us the take of how the weather in general plays a role affecting our mental states for the good or bad. Shinkai's visuals are the key deliverance and it's mind blowing, nobody would expect less from a man who can encapsulate you just through visuals alone.
Rain and Tokyo make a perfect harmony for this film setting and plot, Tokyo is one the most populated cities to live in and busiest. A copy cat of New York the hustle and bustle never stops which Hodaka learns when moving to Tokyo. The eery, dense atmosphere that emanates through the down pour of water has influence over Hodaka quickly, his mood plummets to a fast low. Hodaka feels suffocated by the atmosphere around him, by the ignorance of people around him. Bleakness clouds over a city that continues on despite the excessive rain, much like meandering how we do through life. Doing the same routine day after day and forgetting the joy small pleasures bring.
Despite landing a job with Suga at his magazine company, Hodaka still feels a sense of isolation, the drowning of water rejects any relief but to confinement. Meeting Hina finding out she is the sunshine girl, watching the scene of her opening up the sky is a gorgeous scene among many scenes throughout the film. Hina became a beacon of freedom to Hodaka up until he felt like he would drown in a deprived Tokyo. The business venture the two embark on is a warming sentiment, fulfilling both's selfless desires to help others. Though there is selfish intentions both individuals have and take no care in being responsible for, which a funny concept, . Hina for me became the symbol itself how in times of dark, simplest wonder of a pouring light down upon you can reenergise you. Just by praying, Hina opening up a path of goodness, it's special every time.
Last month was not a good month for me, last August's week weather was how it looked in the film. Then Sunday came first day of spring, the sun came out to greet us feeling like a proper spring day in a long while. I felt revitalised and have been in good spirits since, there is something special even on a rainy day, a light of rejuvenation from the sun, wiping away the negative. Hina and Hodaka spread of goodwill is beyond heartwarming as the main protagonists kind hearts matching it.
---
Your Name 2.0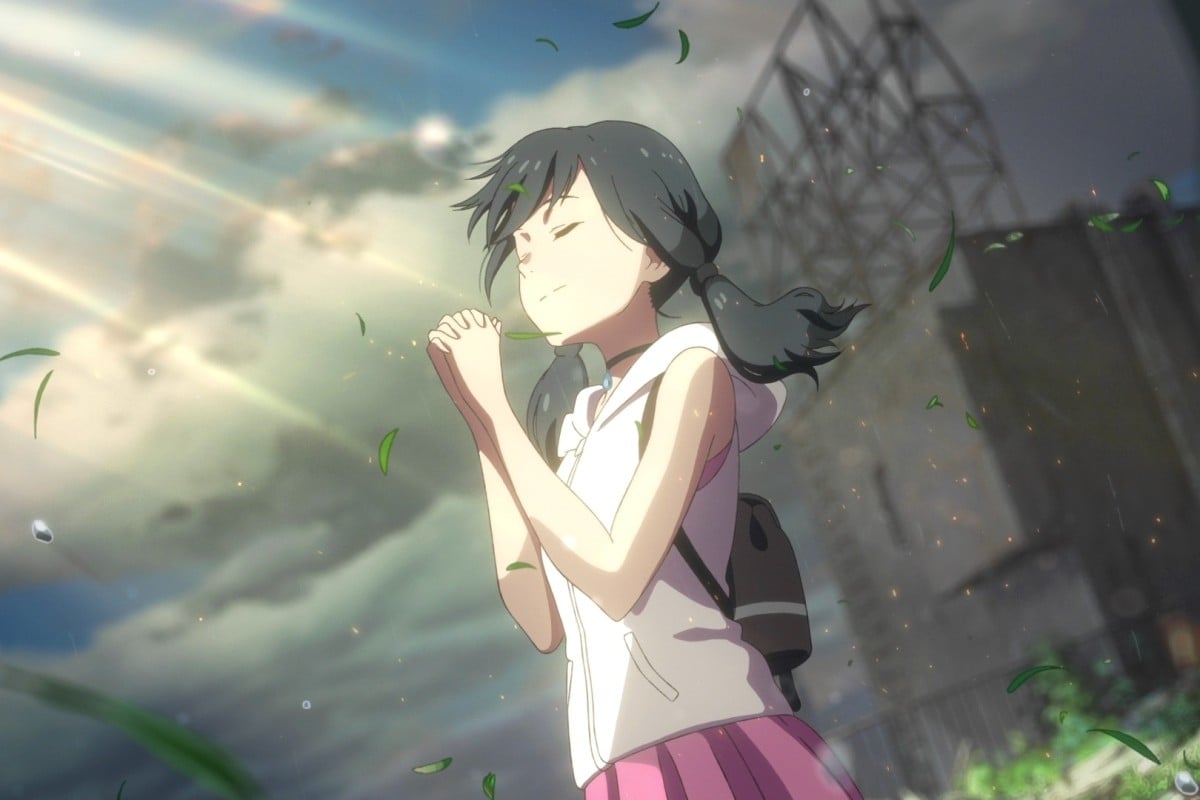 One massive problem people are doing is comparing Weathering With You to Shinkai's 2016 Your Name. These two entities are on completely different fields, you should not go into watching this film with the hope it will beat Your Name. That is just dumb thinking right there because I like to think Shinkai wasn't thinking this way in the creation of Weathering With You. The reason I'll run over the hills for any of shinkai is his story telling towards the theme of love. It's like nothing I've ever seen before intertwining fantasia with the modern day. Your Name was special in reaching a drawing climax and respecting a part of Japanese history. But Weathering With You for me was a fun experiment mixing magical realism with cultural urban.
The mystical element plot part wasn't anything ground breaking for me but worked well to encapsulate the relationship between Hina and Hodaka. When the film reaches conclusion it links the fantasy together to the main pair in a adoring adolescent innocence. It's hard to pick out what Shinkai's main theme was for this film, because surrounding Hina and Hodaka characters are the themes of survival and making it on your own. Shown in a raw factor especially on Hodaka's end when he first arrives in Tokyo. But Hina had it more rough then Hodaka, he was lucky there was a home for him to go back too.
I like to think Shinkai's intention was the connection of nature and humans, which was my main takeaway. The plot overall works if the notice was on nature, survival and adolescent standpoint. The pacing of things was fast and at points got over-dramatic particularly towards the end. Throughout the humorous parts were cute and worked with the fast pace, there were some references you might recognise which I wasn't expecting. It's a pleasure to inform though this film has my favourite ending among Shinkai's films, beats Your Name for me.
It was great to see the return Radwimps for the musical aspect, like in Your Name!. Some of the most unique music among Japanese rock bands I've ever heard. Every track was right on point, the album for Weathering With You has a freeness feeling but encompassing some gorgeous fantasy vibes. My favourite track is "We'll Be Alright" revolving around Hodaka and Hina, a beautiful composition of classic and fantasy feel. The use of this track packs a hell of a bunch if you have seen the film you'll know why, if not haha your in for a goodie. You can listen to it on Spotify !! 
---
Weathering With You is not the next Your Name, it's a work with flaws. But I loved it none the less, Your Name captured the power of connection in an extraordinary fashion through time travel. Shinkai's works all have one thing in common how he utilises the theme of connection in a different setting. Combining romance to it, every time packs a different punch in Weathering With You case I took away the focus of our connection to nature. How from the sun shining down revitalises us and to be best kind of therapy. How weather in general affects our mental states and we take no notice in this factor, it becomes a blur in your day to day life. Weathering With You rejuvenated me when I was feeling blue, opening me to a visual earthly experience that has never made rain look so good.
---
Does Lita highly recommend this film? HELL YES! I cannot wait to get this on bluray and experience those epic city scapes and weather scenery . . . Ugh was nothing like I've ever seen. In capturing an ideal picturesque rain, shinkai did the impossible.  Ya did it man!! The visual master does it once again !!
But seriously if you go into this thinking it will be the next 'Your Name', you need to rethink and have no expectations going into this film. It's just dumbass thinking for high expectations on this one, I'm pre-warning now.
Hope you enjoyed my spoiler free piece on Weathering With You. If you have seen this film, leave me some thoughts? Better yet if you have written your own piece link it down below 🙂
I'll see you all in the next post!!
LitaKino