A tad late but time for another Friday Feature and have a very special one for you all this time. Going out of the bloggersphere and into the podcastsphere, at two podcasts run by a guy who loves retro.
Get To Know Your Podcast Host
Different kind of spin here than you guys are use to but alongside blogging, in the podcast scene it's just as hard to be noticed or get yourself out there. I'm hoping to cover more podcasts for future features but lucky first up is a double whammy of Retro podcast goodness. It's a great pleasure to have Ian be apart for the first time in my Friday Features. Ian runs two podcasts with different hosts: Retro Anime Podcast with Lewis and Retro Mecha Podcast with Craig. Ian spoke my language when I happened to come upon his podcasts, old school anime and mecha. Having these two podcast outlets gives Ian all the outlet to spout his love of old school anime, having the seperate interests he has.
If you are a old school anime fan or mecha lover, each podcasts can cater to both. Ian likes to focus on anime from the golden years 60 to 90s, for both podcasts, always bringing something different to the plate, that I've never heard of before.
---
Interview
Lita:  Mecha and podcasts have taken over this different Friday feature. I would like to thank Ian who runs both podcasts Retro Anime Podcast with Lewis and Retro Mecha Podcast with Craig for being apart of this special podcast Friday Feature. This interview will be split in two parts discussing both podcasts. But before getting started why don't you tell us your background getting into anime itself? Every fan has a gateway story getting into this medium, I feel it's always important to tell.
Ian:  I got into anime without realising it really. The first seed was sown when I started watching Battle of the Planets (the Western adaptation of Science Ninja Team Gatchaman) in 1979. I loved the action and the way it looked, especially the way the Phoenix aircraft turned into a fiery bird.
The real defining moment for my fandom came during the summer of 1983 when our local video rental store got a new range of cartoon tapes that featured a cool looking robot on the front cover, this would be Starvengers (in 1980 Jim Terry Productions had syndicated 5 70's Super Robot shows for the West and branded it as Force Five and Starvengers was the adaptation of Getter Robo G). Watching that first tape of Starvengers blew my mind and I made my parents rent all 10 or so tapes in series over the summer, I absolutely couldn't get enough of it, it was so different to all the other cartoons I'd seen until that point. With Starvengers my fascination and obsession with animated robots was set for life.
Through the rest of the 80's there would be other shows, Ulysses 31, Mysterious Cities of Gold, Transformers and the puppet show Star Fleet that would capture my imagination in a way other cartoons and puppet shows airing at the time didn't. My first inkling that this stuff came from Japan was while at the cinema watching Transformers: The Movie. During the end credits I pointed out that there were lots of funny names in the scroll and one of the older kids that came to see it with me said that they were Japanese, I thought it was odd but never gave it a second thought.
While I was at secondary school, some classmates (Ben Howard, Richard Auty and Richard's older brother Dan) ran a horror fanzine called 'Ooh My Brain Hurts' and I used to write a Heavy Metal album review section for it. The only way to obtain the video nasties that were reviewed in the fanzine was by buying tapes from people who advertised in other underground horror fanzines. It was through these fanzines that they got wind of the imminent release of this Japanese animated film called Akira in the UK in 1991. Richard bought the VHS release of it (subtitled of course) and we all watched it. Watching Akira was a defining moment in my life and there was this penny dropping moment where I realised that all these shows that I had been really into during the previous decade had come from Japan and that sealed my fate as a lifelong anime fan where 28 years later I still watch anime nearly every day.
---
Retro Mecha Podcast Questions 

Lita: I think it's really cool Ian you run two podcasts but this mecha one you run alongside with Craig. I've not had a chance to listen to your fairly new mecha podcast yet as I found you through your first one. How did this podcast come about with Craig as your host? Had you two always been a pair of mecha fans who just wanted to speak all the mecha?
Ian: I had got 3 or 4 episodes of Retro Anime Podcast published by Spring 2017 and at this time Craig was launching his blog and had found the podcast and after listening to it got in touch me with me via Twitter. We were a similar age and found we had very similar anime  tastes and interests and that our fandom developed during the same period in the UK in the 90's, and also that we had the same mission statement for our respective media, to talk about and bring awareness to older anime. I always planned Retro Anime Podcast to be a multi-genre anime podcast and due to locations and work constraints, Lewis and I agreed to focus on movies and OVAs as it would be easier to fit watching the material around our hectic schedules. We had a good response to it and we built up a solid multi-national fanbase and I really enjoyed doing the podcast which lead me to wanting to talk about mecha anime more (especially after we recorded the Ideon episode) so I started toying with the idea of doing a mecha podcast as a companion podcast to Retro Anime Podcast and after getting the basics down Retro Mecha Podcast was born. As the idea was germinating I had Craig in mind as my co-host as I needed someone who was as passionate about mecha anime as I was and was knowledgeable as well and based on our conversations I knew Craig would fit the bill well, I pitched the idea to Craig and he jumped at it and here we are 18 months down the road with 5 episodes published.  


Lita: This Mecha podcast is fairly new so I know there aren't many episodes you've done but what are some future podcass you would like to do? Any particular old mecha series you would like to cover?
Ian: Where do I start! There are some obvious favourites that I want to review like L-Gaim, SPT Layzner and Vifam, those are well known and not the first series we want to cover as they're well covered elsewhere, but we will get round to them at some point. We've got to finish the rest rest of the Macross Retrospective we started in episode 3 and there's lots of relatively obscure Super Robot shows from around 1976 to the early 80's that I'd like to cover, maybe a two part Dancouga retrospective of the TV series and OVAs and I'd like to review a Brave show that isn't GaoGaiGar. Our next episode is a Toshihiro Hirano OVA special and I'd like to do more OVA and director focused specials as well. The issue for us for a lot of the more obscure shows is the availability of subtitled materials, we're fortunate that there is a dedicated group of enthusiasts that are translating and releasing subtitles for a lot of older shows and Craig and I are eternally thankful those individuals for their efforts.
Lita: Did you and Craig have a goal in mind for creating this additional podcast? Was there a hope to encourage mecha fans to give the old a try? Why do you think you are different from other mecha podcasts out there?
Ian: Absolutely, the aim, like with Retro Anime Podcast and Animehead's Retro World, was to give some exposure to lesser known anime and hopefully get people to go back and have a look at them. The anime podcast space is quite busy so it's difficult to stand out, some key aspects for us was to focus on the first episode, a lot of these series a very long so we look at how well the first episode does at enticing you to watch the rest of the series and we focus a lot on the context of the show in the period it was released in, was it influential, did it do something new at the time, how did it fit in with other similar anime that was being released at the time, that sort of thing. Plus we want to give an objective view from a couple of mature, passionate fans of the genre.
Lita: Out of the podcasts you've done so far what has been your favourite and why?
Ian: I've liked all of them so far. I was really pleased with our first episode which I thought was a solid deep dive into Zambot 3 and I'm particularly proud of our latest episode on Daltanious, we've settled into the format and rhythm of the podcast now and I think you can hear that through the episode.

---
Retro Anime Podcast

Lita: I hope to give your Mecha podcast a listen to at some stage but your Anime podcast I've listened to 'The Blades of Good and Bad' which were thoroughly interesting and enjoyable. Listening to you and Lewis talk about OVAs I've never heard of. What's been your favourite podcast so far to record?
Ian: Like with the mecha podcast, I've enjoyed making them all and it's been great to be able to have a proper discussion about retro anime so it's hard to single out one particular episode as my favourite. The one you mention was good fun, it's amazing how you can take the same themes and basic story elements and get such two contrasting anime, there was so much to praise in the Dagger of Kamui and you could nothing but rip Sword for Truth apart! I liked our last episode where we looked at the start of the modern anime industry, along with our episode looking at a couple of Miyazaki and Takahata anime before they set up Studio Ghibli it was fascinating to look at the lineage to where anime is today. The review of Dragon's Heaven was an interesting discussion as Lewis and I had really differing views on it and that came about really from the difference in our ages and anime preferences.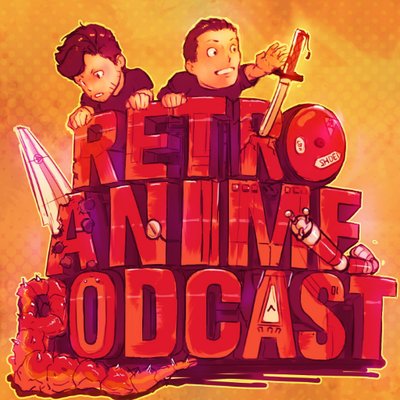 Lita: This podcast has been around since 2013 (so says your twitter). Please do tell us how this podcast come about? Sounds like you, Lewis and Craig are all friends but doing separate things is this correct?
Ian: I started listening to podcasts probably around 2009, there were few that I liked and few that I didn't!  Then I found that the same friends from school that I did the horror fanzine with did a podcast called the Mondo Movie Podcast that covered the same sort genres as the fanzine did and I really liked the format and style and that was the main inspiration to start Retro Anime Podcast. It took me a few years to get it off the ground, trying to figure out a format, I knew what I wanted to achieve and the anime I wanted to cover but who would I do it with? I'd had a few false starts and one day I was talking about getting the podcast running with Lewis (who is my Step-son) and had the spark of inspiration about doing it with him. After a bit planning we finally got started and despite a few scheduling challenges we've been putting out content fairly regularly since September 2016.
Lita: I love that your podcast covers old anime from 60s to 90s for starters and you're covering this whole range what are some anime you are hoping to cover for future podcasts? Can we get a sneak look in? Do you wish to expand out from anime or not?
Ian: I have a plan of the content for the podcast that covers the next 5 or 6 episodes as it helps with scheduling and organising material and helps balance the mix of genres we review. I don't want to give too much away but coming up next is the second part of our Gall Force retrospective and we'll do the final part of that 3 episodes later. After Gall Force Part 2 will be the two Sangokushi fantasy films from the 80's and then a look at a couple of violent powered suit OVAs! I have a massive list of anime I want to review, some well known, some more stuff from the 60's and 70's and more really obscure OVAs, which is something that remains fairly constant with the podcast's content. While not strictly anime later in the year I want to review the puppet show Star Fleet (the Western adaptation of X Bomber which was created by Go Nagai and has recently been released by Discotek) as I'm keen to see what Lewis thinks of one of the key shows of my childhood!
Lita: What do you think sets your podcast apart from the others out there? Mean you have a advantage already having lovely english accents that speak so clearly, that's one. Do you wish to be doing this podcast for the future?
Ian: I had got Lewis in to anime originally back in the mid 00's and he really only watches current anime today (he only now watches old anime for the podcast). So having him as a modern anime fan, the generation behind me, reviewing this old stuff with modern fan eyes in contrast to me, as a mature fan who grew up with up with anime from the 80's and 90's (and having my rose tinted specs on for some of anime we review) gives the podcast a pretty unique viewpoint for the reviews and it's interesting to see how 30, 40 even 50 year old anime stands up now under scrutiny from different generational standpoints. Lewis and I really enjoy making the podcast and we've built a solid fan base that is steadily growing so hopefully we'll keep doing it for years to come.
Lita: Now usually when I do interview for bloggers I always ask if they're is any advice they would like to pass on. Being the case about podcasts, is there any advice you would like to pass on to fellow podcasters?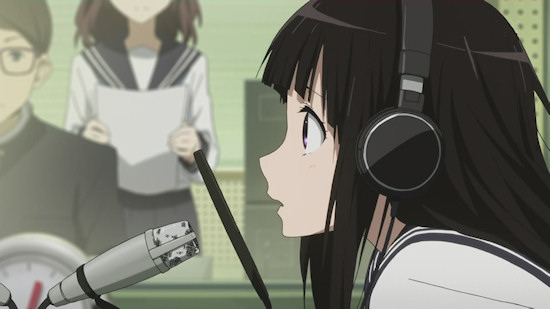 Ian: As with anything you create, the main thing is you need to be passionate about what you're talking about and with podcasting doing it with other people who share your passion and that you have some chemistry with is absolutely vital. I think it's also important to have something distinctive about your podcast no matter how small that feature may be.
---
Follow This Retro Guys !! 
Retro Anime Podcast:
Twitter: @retroanime
Website: www.retroanimepodcast.com
Email: ian@retroanimepodcast.com
Retro Mecha Podcast:
Twitter: @retromecha
Website: retromechapodcast.wordpress.com
Email: retromechapodcast@gmail.com
Both podcasts can be found at the following services by searching for Retro Anime Podcast or Retro Mecha Podcast: 
SoundCloud, iTunes, Spotify, Stitcher, TuneIn, Player FM, Cast Box, Overcast FM, Pocket Casts and most other podcast hosting sites.
---
I thoroughly hope readers enjoyed this different feature from me and you can look forward to more for the future!! Massive, massive thankyou goes out to Ian for participating in my Friday feature and highly encourage people to check out these awesome podcasts !! Ian does such a great job and works so hard on these projects of his. Any support you show will have the biggest impact for these guys !! They got you covered on giving us rare old anime and mecha !! 
Thankyou again to anyone who reads this special Friday feature and I'll see you guys in the next one !! 
LitaKino