A whole month of Mecha content, what could be more exciting !! Kicking things off with a long awaited list I've been meaning to do for a long time. Sharing my top 5 Romance/Mecha series that encompass my favourite genres in anime.
Mecha March Is Here !!
What's going on? March 1st already this is crazy, 2019 is whisking us off too quickly. I am not sorry for in advance that the next month is nothing but Mecha content, it's about time this dear genre get's it's spotlight from me. I'm proud to be a Mecha fangirl and spout my endless love for it but what's gets me preachy more. Upon discovering a long time ago encompassing both romance and mecha together, giving me the best of both worlds. A mushy romance with kickass robot fights among a complex plot, this is what I live for in this genre folks.
Among the series I've watched that combine both genres, admittedly there are few that have brought true satisfaction, to what I always crave from these genres. In this top 5 are ones that every rewatch make romance/mecha genre sing in unison perfectly and are my favourites for this sole reason. My choices are ranked in accordance of favourites and might surprise what ends up being number one. There's one choice among this list that you think will be number because I've spouted my love of the series for a long time.
Ready to see my favourite romance/mecha anime?
---

5.   Macross Frontier 
All in this list are not perfect series with different reasons for giving me satisfaction. Macross Frontier seeing this anime only once was enough to leave a massive impression. My gateway into the Macross franchise better known as "Space Opera". Macross Frontier best to describe has that over-the-top nature mixed with idol singing, and holding up a solid plot. If you're familiar with Macross then you'll know this series to be heavily musically influenced. Our idol girls Ranka Lee and Sheryl take centre stage the majority, treating you to some sweet sounds, with people like May'n and musical influence Yoko Kanno – prepare for harmonic bliss.
To support the musical heavy, an strong engaging political plot, incorporating the two makes for this series uniqueness. Letting the singing become apart of the fast, drawing fight scenes is something memorising in itself. Among the mix a love triangle bringing forth all the angst people might see as the flaw of Macross though despite doesn't degrade the series other qualities factors – the music or plot. Romance element is still satisfying in areas but the whole space opera package of Macross Frontier, is a truly wonderful experience. Hence since watching I've never been able to forget this series, this was my starting point into the Macross franchise. I find it only fitting to be others as well.
---
4. Eureka Seven
50 episode series that has been refilling every re-watch. Eureka Seven was my first introduction to Studio Bones, Stardriver, Angelic Layer to name a couple of favourite works by this awesome studio. Never dreamed after season one and Pocketful Of Rainbows movie, we'd get a season two, three movie trilogy. The series still has a strong standing today even from a decade ago when I first watched it, then it was huge still. Eureka Seven is a special one for me introducing to me a mecha plot point that I've grown to become fond of. Fighting robots are more than just robots, they have a sense of will all on their own. The bond Renton forms with the Nirvash was amazing to me during my first watch.
I loved that the idea taken at the time of making a robot having it's own will, this became apart of the love formed between Eureka and Renta. The romance part is the main reason I fell in love with Eureka Seven, the deep relations main duo find within each other forms into something that makes you shed a tear. Plot, characters and mecha battles are all up there alongside the romance element, everything works, it's amazing …. I could go on and on. This is the second to most satisfying on this list that gives everything I want in a mecha/romance, the added element of Sci Fi makes all the more intriguing.
---
3.  Full Metal Panic 
Oh look here she goes again more panic talk. I've expressed my endless love for Full Metal Panic, it's a ultimate favourite. Full Metal Panic has got the strategical kick-ass mecha battles, engaging on-going plot, outrageous comedy and loveable characters. It can give you all of this no problem and you will be entertained but the one thing I craved from this series that would just complete it. The pending romance through the first three seasons between military maniac Sousuke and high schooler Kaname. The franchise had never expanded on the obvious feelings the pair had but… last year in 2018, that all changed.
Not to say there wasn't any adoring moments between the pair in the previous seasons because there is. Sousuke saves Kaname throughout which has my heart ablaze every time. But Invisible Victory fourth season came out last year and unexpectedly brought forth what I'd yearned for so long from this series. A miracle, to have these sweet moments hand holding, lovey words and then… the ultimate one that had my jaw dropped. There was nothing more to ask from this series, my teen heart was complete. The missing piece had been placed and the reason it's on this list now. Just read my post on why you should not skip this that will explain all.
---
2. The Vision Of Escaflowne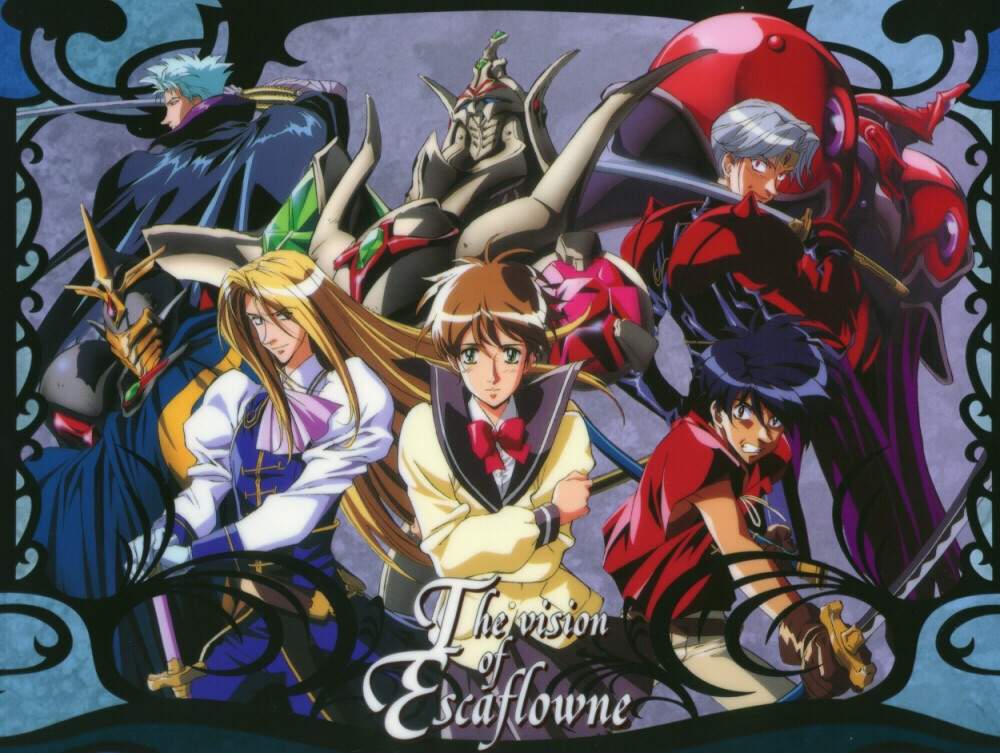 What's that? One of my top favourite anime is not number one for this, SHOCK. I'm afraid it is true as much as my soul loves this series – there was another that had the upper hand. Not to say Escaflowne isn't special because it damn well is, this series is the reason I got into the mecha/romance series genres. Mainly for getting me into mecha itself. Escaflowne has the advantage in this list having additional genre of fantasy along side mecha and romance. 'More than what it seems' as the saying goes regarding this series underneath the surface, many themes are explored cleverly.
Escaflowne offers a dark riveting plot, chaos of war, physiological themes and manages to squeeze a soap opera love triangle – I've expressed this in a post before. It embraces all these themes demonstrating how complex 90's anime can be for it's era. How even today it holds up strong offering to newer fans, a time for anime they've yet to experience. Decade later and I'm still the same raving fangirl from seventeen who could never shut up about this ultimate favourite.
Hmm now what could have topped glory 90's Escaflowne?
---
1. Aquarion Evol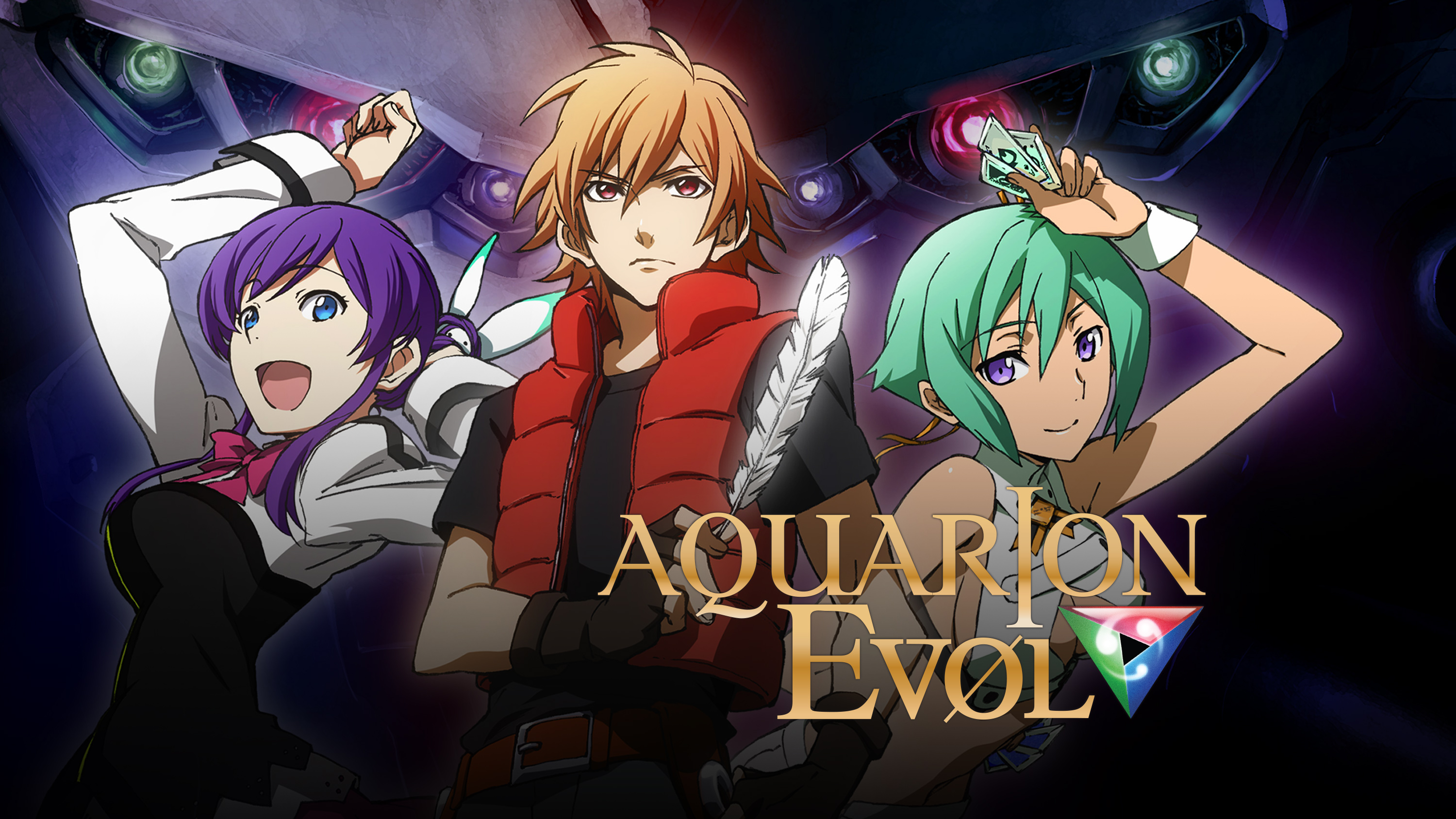 Are you surprised? You shall see a post during Mecha March on this series of me going in more detail. Aquarion Evol ultimately ticks all the boxes for me when it comes to combining romance and mecha. Out of the franchise Aquarion Evol is my favorite the original Genesis Of Aquarion I enjoyed but not as much. Aquarion Logos was another story maybe I'll give the series another chance but it was a no go for me. Aquarion is about love and channels this theme into something explosively fun and over-the-top.
In addition draws on life lessons viewers will relate too, shown through the silliest of situations. This series does not try to be something unlike other mecha series, it lets itself fully loose throughout making for such a fun, joyous time. The mecha battles you'll find ridiculous at points but relate to Gurren Lagann a lot, a quirky cast of individuals that bring there own flare to mix. More importantly relationships and love every character builds with one another. This is the ultimate satisfaction in romance and mecha, I've found so far.
---
No Gundam!! Well I haven't found one that compasses both themes well yet.

I'm surprised myself Escaflowne didn't get number one but Aquarion Evol just love that much more in this case. There are still many mecha/romance series I've yet to see so something could top any of these. So far what I've seen in the last decade these are my top choices. If you have any recommendations for me, please leave down below and I'll watch those in a heart beat.
Hope you guys enjoyed my first Mecha March Post and I know I need to more lists from now on. I've missed doing them.
Sorry not sorry it's just mecha related posts for a month. haha.
Don't forget to check out Scott's Plans for Mecha March who is doing alongside me.
I'll see you guys in the next mecha post!! 
LitaKino