After 3 months finally getting back on the Owls Blog Tour band wagon, it's been a minute. February is the month of mushy and FINALLY were covering the topic of love, two years late.
Prompt:

In February, we will be exploring love and romance. The word selected is "adore" because it has two main connotations: to be loved and respected or to feel worshipped. We will analyse characters that give us a feeling of admiration and explain why we love those characters. We will also be exploring different forms of love (familial, friendship, and even self-love) and how those types of love influence our lives.

If you have never heard of OWLS, This group consists of bloggers and youtubers, where each month participate in a blog tour. Having a set topic using pop culture to talk about said topic. Were a group about promoting acceptance about worldly topics equality, race, disability etc.
Hope your valentines this year was a good one however if you were bothered about it or not. Me, I had a long date with my bed and shoujo manga, the good stuff. Before things become mushy here, hop on over to the previous post before me from Ange (JustBeingOtaku). Who looks at romcom Monthly Girls' Nozaki-Kun and it's crazy characters that give the series it's humour factor. Finally our chief prompter Lyn gave us "Adore" to cover for this February blog tour, about time girl haha.
If you have been around here on my blog for a long while you know romance out of two genres is a favourite. Choosing a series should have been a piece of cake but no I got stuck big time, too many series to choose from. But then… the saving grace was a short romance series randomly decided to give a shot, I'd bought last sometime. Pot of the luck this series related to our tour spot on.
---
Admiring What You Don't Have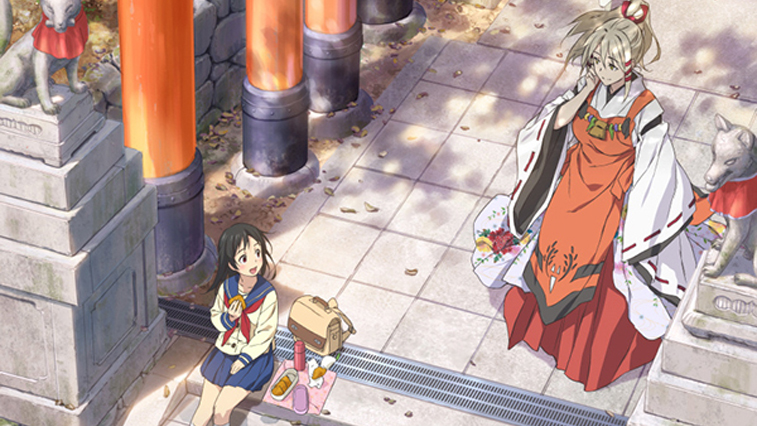 Inari, Konkon, Koi Iroha truly as a ten episode series unexpectedly was a beautiful gem to discover. Focusing on middle schooler Inari who's clumsy and very shy, she has a crush on popular Koji. Inari admires Koji's cheerful personality and how hard he works. Inari has no gumption to confess her feelings due to her extreme shyness. On the way home from school Inari saves a minature fox baby nearing falling into the river. After saving the fox which in-fact is a familiar, Goddess of Inari's shrines Goddess Uka's. As thanks Uka grants Inari's wish which backfires, to correct this Uka gives Inari some of her divine power. Giving Inari the ability to transform into anybody.
It was powerful the first episode the frustrating struggle for Inari who felt only caused trouble for those around her. Seeing Kouji always around Sumizome a popular girl whom Inari craved to be like. Someone who was confident, good at everything practically. Then comes the brilliant concept Inari coming to possess part of a god's power to change into any said person. This concept was so effective towards Inari's desperate desires seeing different people's perspective and perceptions as to whatever she could have thought. Inari faces some drastic realisations especially when Inari befriends Sumizome unexpectedly.
Even more so when Inari, her other two friends and Sumizone go on for a beach trip.  There's tension between Chikai and Sumizone as too shy to approach one another, both fearing they can't get along – from being different settings. Chikai and Sumizone equally discovers both have the same thoughts and feelings, they make up. But Ironically Sumizone admits to Inari she admires her, how optimistic and approachable toward people she was. Sumizone considers herself not confident and difficulties socialising with others. The moment Inari and Sumizone admit how they admire and envy each other is a touching moment. The built up assumptions in our minds will presume about such a person you may admire only lead to scarring ourselves. Sadly it's something as humans we do constantly, compare ourselves to those we see the qualities we don't have.
If we had the ability to change into anyone we wanted, there might be less misconceptions we can make about each other. The air would be clearer but our minds can be our greatest enemies. Left alone in our thoughts is always the ultimate danger to our lack of confidence and low self esteem. Going through the experience Inari does, she realises the unconditional love more than before, from those around her. The qualities they see how considerate Inari is and will always want to do the right thing.
"Here. It says to "like yourself". But good things about yourself… how are you supposed to find them? I only know things I hate about myself. 'Cause that's all I know, I hate myself. But even if you force yourself to find good things… it feels so empty. It doesn't work that way. People like your teacher just don't get it. I think… when you hear someone say they like you, for the first time… then you can begin to like yourself. I think when someone accepts you, for the first time… you feel like you can… forgive yourself a little. You can begin to face your fears… with courage."
-Sohma Yuki 

Fruits Basket has some of the best quotes, this one came to my mind instantly. Inari is the perfection in reflection for every one of us, the equal frustrations of admiring what we don't have. If we cannot not find the validation in our own qualities that makes you, you. Finding what you lack in someone else is not a bad thing but it can be toxic, if you become obsessed to be like such a person. Leading only to your self esteem destruction. It's takes a lifetime to shape yourself or find one thing you might like about yourself. It's never an easy road to be comfortable in your own skin.
Recently one of my favourite childhood artists Avril Lavigne came out with her new album after six years. Dope album but one of her tracks "It Was In Me" just blew me away how much relation to the song I was feeling, at this particular time in my life. Avril describes the song not looking for happiness or validation always in people or possessions but to look within ourselves. Through the course of the series Inari begins to discover the confidence that was inside, her crazy situation gave her the chance to let it out. A moment Inari comes to Uke's rescue from her Uke's families demands for her to be married off to a noble god. Inari expressing the point where is the consideration of Uke's feelings in this. Inari realised to be able transform into another and say whatever she wanted, brings no self validation to herself. It was only a easy route out.
By the end of the series Inari had found a small fulfilment within herself, just small but was enough to push her forward. The admiration of the close ones close in my life are what keeps me thriving and striving I tell you. It's taken a long time to found a small piece of myself, I actually like about myself. As Yuki from Fruits Basket saids you can't take the steps finding comfort in yourselves without the full, open acception from those that know you best.
Dang Avril's song speaks so much truth than I could describe here, highly recommend giving it a listen and let her angelic voice do the talking. This anime and song couldn't have come to me at a more appropriate time indeed for this tour.
---
I really hope you guys enjoyed my "Adore" post for this February tour. Bet you were thinking I would have gone for a mushy romance and I'm surprised at how all this turned out. Check out the rest of the schedule here
Next up on our February Tour is Aria from AniManga SpellBook
Want to know more about Owls Bloggers or Join our team!! Click here 
Follow us on Twitter and Facebook to keep up to date with other members posts and announcements. We have Youtube also where we do a end of livestreams at the end of the month, Check out our previous ones.
I'll see you next time for Owls and next post!! 
LitaKino