This isn't an exciting update but important to keep you in the loop regarding the blog. Blog updates are so exciting.. *tumbleweed rolls by*

No getting exciting with this post. Possibly? Depends what I have to say, haha.
I said last post, I'll be back to regular blogging in August, first week. The past month has been a up and down time, which things in my life have changed. Which has made time for hobbies, balancing out rather troublesome. So, similar to my youtube deciding to scrap my prior schedule (ages ago this way), I'm scrapping my Wednesday schedule all together. Meaning no permanent posts will come out Wednesday. No…
Now before anyone asks when will posts come out?. This is not going to affect my Friday Feature, that will remain as it is. Throughout the rest of the week, posts will come out randomly. This change to my schedule, is not going to mean less posts but I've come to realise. Writing to fit in my time is more important than having a schedule. This will allow me to incorporate blogging regularly and my other hobbies in a timely manner. I have some posts in the works currently. Focusing on ones that are way overdue to be written about. Were talking like over a year some, haha.
So posts will be coming out on different days of the week, I'll still be scheduling posts. The schedule feature is such a blessing thing to have for blogging. As for what content is coming up it's a mixed bunch, teased on twitter: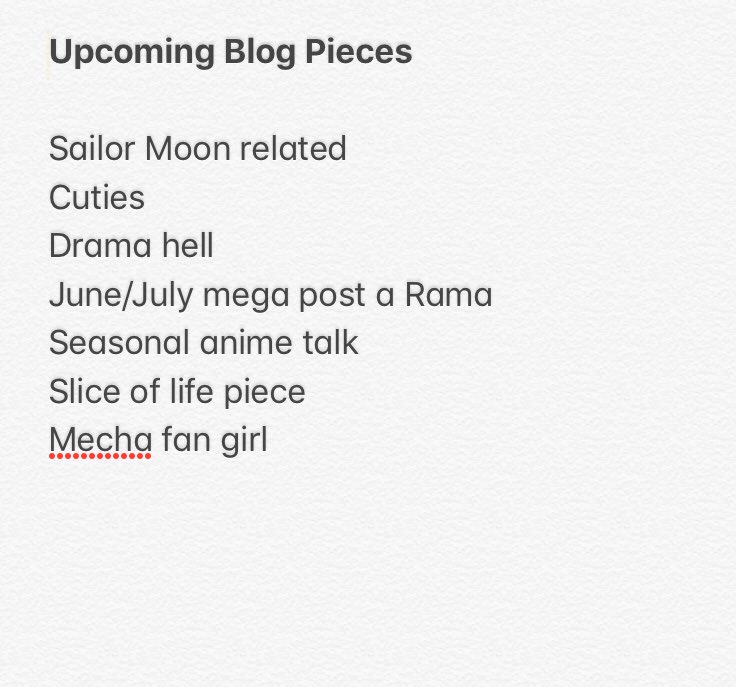 That's what you have to look forward too, at least. Along with some surprises, but I can tell you sneak peek piece coming out next week, will be about a local convention. Which I attended over this weekend for the Saturday. Share my adventures of then and my cosplay..?? Yes I cosplayed after two years, haha. 
End of boring update, now regular fun content will resume.
I'll see you all in the next post!! 
LitaKino