Friday features won't be the same from now on. It's all about even more the sparkling bloggers in this community. This time have a cool cat blogger to introduce you too, with much spunk factor.
---
Get To Know Your Feature/Blogger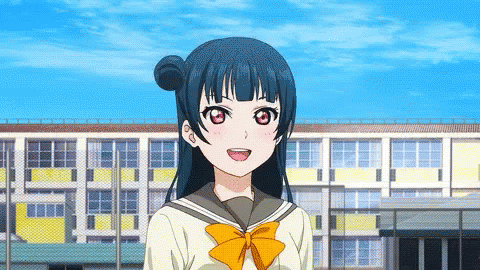 Please to introduce you to spunky blogger, Jenn. Joining the blogger scene last November, still new to the community but her eccentric style. Quite easily to become enveloped in their writing. Jen started on the blogger venture as for a space to let out her anime ramblings. Things you'll learn reading Jenn's content is her love for Yuri, weird anime. Jenn is very open, honest talking of her sexuality incorporating – connecting to series that relates strong to her in this aspect.
There is not one post, you won't read without Jenn's eccentric, fun personality that goes with it. A female blogger who works full-time hours, squeezing her blog and other hobbies in her spare time. One other thing you may learn her love of Yoshiko from Love Live... It's everywhere. It may have affected me to finally watch Love Live. Jenn is a spunky blogger who brings flare to this community already.
Posts To Check Out: 
Revolutionary Girl Utena Uniforms – Jenn focuses on the significant uniforms in Utena and meanings behind them
Learn To Enjoy Your Free Time – Sound advice and great reminder to take enjoy what little free time we have as bloggers.
Remembering Teko – Jenn looks at the friendship of Teko and Pikari and series sort approach on this theme.
---
Introduce yourself – do a little blurb about yourself, what brought you to the blogging game? Why anime?
I'm Jenn, which is my real name and not a fancy made up blog name because I'm boring (haha). When I was younger, I always kind of liked the idea of becoming a movie reviewer or something, and even though I watch a lot of non-anime things, I just think there's more to write/say about anime. So, this is kind of an extension of that dream to be a reviewer, in a way.

You've been blogging since November 2017, How have you found the blogging community so far?

I love it! I can't believe how nice and supportive everyone is. I honestly expected to just be writing out into the void with like, just a spam comment or two every once in a while. I tried starting a movie blog a few years ago but didn't stick with it, mostly because I didn't really get many followers or anything, so I was really surprised when people started interacting with me once I made an anime blog. It's been really motivating and validating, and I really like seeing all the different perspectives on anime and manga.


What has blogging given you freedom to talk about, that you feel you can't in real life?
No one I know in real life would ever let me say 1,000+ words about gay anime to them, so blogging has given me a platform to just spew all my thoughts on that. Most of my friends like anime, but not to the degree that I do, so they're not really down to get in depth about, like, a single episode of Cardcaptor Sakura with me. But now I can put all those thoughts out there!


It saids in your about me section, you like watching weird anime late at night. What have been some of those weird titles? Do tell 😉
Oh man! When I started my blog I was only going to write about weird short OVAs, but I strayed from that, obviously. I think the weirdest thing I watched was this short series called Hen Semi that was about a college class on fetishes? It was really gross and bad, and I watched it all in one night. I also watched A-Kite a while ago, which was described as an "action hentai," and that was…a lot to take in.
From following your blog the topic of sexuality is an important one to you, the many aspects handles sexuality, How do you feel anime handles the themes of sexuality ?
I think that anime really helped me feel like I wasn't a weirdo for not being straight when I was in middle school, but looking back, a lot of stuff I watched didn't handle themes of sexuality very well – like, I watched a few yaoi series that were…Not Good in high school. There are definitely some series that have lots of gay characters but don't actually do a very good of portraying them. But overall, I still think anime and manga has a lot more to offer when it comes to different sexualities. I mean, Hollywood never gave us anything like Revolutionary Girl Utena!


Is there a specific direction you wish your blog to go for the future or is it about the fun?  
One day, if I ever really commit to it, I'd like to make my blog more "professional" with a nicer layout and maybe have more up-to-date reviews and some more video game posts. But for the most part, I'm just having fun, and I'm super happy that I've met so many people just through writing goofy fun stuff!
If you weren't blogging about anime what do you think you'd be blogging about instead?
Probably horror movies. Or teen movies. Those are my favorites!
What are some future blogging ideas, you'd like to give a go?
I guess this isn't a blog idea exactly, but one day I want to try to make videos to go with stuff I write. I'm super jealous of people who make video content…!! Like you!!!! I don't know if I'd ever have enough time, but it would be fun.


What were some of the first anime that attracted you to the medium?
Cowboy Bebop, Cardcaptor Sakura, Ouran High School Host Club…and pretty much anything that ran on Toonami at 2am in the 2000s, haha.
Have you learnt anything new since you started blogging? About an anime? In a writing sense?

I haven't been blogging very long, but I think I've learned a lot just by reading other people's posts. Like, I found that I like reading people's personal opinions/experiences more than just reading objective reviews, so that made me less afraid to put more personal things into posts I make. I've also learned a lot about different, more obscure manga through other people's posts. Like, Cactus Matt finds so much stuff I've never even heard of!


10. What's one tip you would like to pass on to other bloggers ?
This is probably really cliche, but just be yourself and don't stress too much about what you put out! At first I just focused on trying to write giant analytical posts, which are cool and all, but it just wasn't for me and kind of burned me out. And then I tried doing episode reviews, but I didn't like doing that either…so instead, I just started writing about…well, whatever I wanted, and surprisingly, those posts did a lot better than the stuff I tried to force myself to write. Once I just let loose, it was a lot more fun to blog, and I think when you're having fun writing, readers can sense that and end up having more fun reading, too 🙂
Also, thank you so much for interviewing me!! It made me feel important (lol). But also I'm happy to part of a cool blogger's feature like this!
---
I'd like to thank Jenn for being apart of this new blogger feature series. You can follow the wonderful Jenn here and this is the new direction of my Friday feature series.
I wanted to involve my blogger friends and people even more, in my features. I'm happy with the direction, I've chosen so every Friday. You guys will get to know a new blogger each week through an interview. Though I'm still trying to figure out how to feature posts, my monthly post-a-rama will still happen. Bare with me on this, till I figure out things.
 
Happy weekend !!! 
I'll see you all next Friday and post !!!
LitaKino