Many of you or maybe not have been asking where the Friday features been at, last month? My only answer is being behind on things, out of my hands on my part. But… Friday features I'm changing it up. hehe 

Forgive me there has been no Friday Features for this past May. My head and self has been all over the place.
But
You know how I love to surprise you all with my secret goings on back in the Lita laboratory. Friday features are getting a change up…. Psst. Are you excited now, keen to find out?  
I'm always for supporting any new and fellow blogger people. It important to me to give support to make them feel welcome and let them know. The anime blogging community is no where near dead. I decided to add to my Friday feature interviews with fellow anime bloggers, strictly blogging only. My hope this will be a way for blogs to be discovered but get to know the person behind the blogger. These interview features aren't anything new but still I want to do them.
---
Get To Know Blogger:  Miss Drunk Irina 
First up to the table is a blogger whom has made a name for herself. For their humorous way of blog style and all about the drinking. The lovely Irina from I Drink And Watch Anime. If your someone who loves to drink or have a one every now and then, you must check out Irina's drinking game at the end of her reviews. Irina is very much a blogger who writes from the heart and why I've found many enjoy her content.
Irina all round is just a hoot to have a discussion with about anything anime. Always blogging away like a whiz blogger prodigy, where does she find the time?. They are a strong supporter for the blogging community and taking on million secret projects. Irina is someone you should be following in this anime blogging community and is such a trooper.
---
Introduce yourself – do a little blurb about yourself, what brought you to the blogging game? Why anime?
Hello everyone! For those of you who don't know me, my name is Irina. I'm very pleased to meet you. A while ago I started a little blog called I Drink and Watch Anime because I enjoy drinking and watching anime and sharing that with others. I've loved animation since I was a child and I have been particularly interested in anime as the eastern sensibilities in narratives are a nice contrast to the more European and American media I usually consume. Also I just like it…the characters are super cute…
I have been thoroughly enjoying this little blogging adventure so far but I must admit, when Lita asked me to do this interview with her, it was one of my best blogging moments to date. Thank you Lita – you rock!

How do you feel your blogging has involved since starting out ?
I'm not sure everyone will agree, but I do think my writing style has progressed a little. I certainly find it much easier to organise my thoughts when it comes time to put a post together.
Although it doesn't necessarily have anything to do with my blogging per see, I have learned a lot about the community. How to relate to other people, how to have interesting conversations in comments sections (which is a unique sort of dialogue) and how to reach out to people as well. If anything has helped me grow, its learning from my fellow bloggers.
I know I still have a lot to learn though but that's a big part of the fun too.
You post on a regular basis which is no easy feat and I know you work full time. How do you work around this to blog on a regular basis? What is your routine?
My readers know that aside from a few exceptions, I tend to write in stream of consciousness (I'm essentially just writing down a conversation with myself), so all my posts tend to be written in one to two spurts.
I sometimes work from home, or sometimes drive to the office but whenever I can I take the bus. It makes my commute longer but I find it more relaxing and environmentally friendly and all… Whenever I'm on a buss – I write on my tablet. I can usually write a post per round trip.
Otherwise, I will write every day when I get a break (whenever I decide to go to lunch for instance). I try to write about two posts a day. I don't write on weekends but I edit, format and schedule everything I've written during the week.
Collabs are different as I tend to go with the other person's schedule as much as possible. And certain episode reviews require that I write them on the same day as I've watched them.
Your blog is most unique adding drink In the title. Curious about What is your personal favourite alcoholic beverage? Oo do you drink while blogging by any chance?
If you've read my posts – you can probably tell that I do indeed occasionally drink and blog… Particularly Grancrest episode reviews since I often write those on Friday evenings before heading out and I may have had a pre party drink.
My favourite drink changes but I am a big fan of Sayuri Sake, Polish Vodkas and California and Spanish wines. I'm not that huge a fan of cocktails but finding recipes for each show has started making me more curious about them. Some sounds really delicious.

What are the kind of blog posts you enjoy writing the most ?
Natsume!!!! No for real – I love those. Also reviewing any reverse Harem shows. Those posts are absolutely ridiculous and they put me in a good mood writing them.
Otherwise, I've done two pseudoscience Anime DYI posts. The Sybil System one and the Phone microwave. Those are quite difficult to write but I loved putting them together. I would love to do more. I have a list but I never seem to get to it.
Is there a specific direction you wish your blog to go for the future or is it about the fun?
My blog is purely a hobby and like any hobby, I put a lot of time on it! I have a one year blog anniversary coming up and I am planning on overhauling the blog, maybe announcing a few changes but I barely have a direction I want to take my next post in, let alone my blog. I'm more of a spontaneous experimenter.
What's been some fond memories for you during your blogging journey?
I have met some truly fantastic people through this journey. I'm writing this post with one of them!
All the same little things as everyone else I suppose. Getting my first comment (thanks Artemis), doing my first collab (hey Remy), joining OWLS (hello all you Owletts and Owlers) meeting friends I talk to regularly and occasionally spend lovely afternoons with (talk to you soon, guys). All of it has been wonderful.
Also – someone once found my blog through the search terms :"super scott". Win!
I wrote a post not long ago about the attraction of posts, podcasts and YouTube videos. What attracts you to read someone's post, listen to someone's podcast or watch a video?
There are a few bloggers who I just fangirl over. I will jump at any of their posts simply because I know they always put out great work.
Otherwise I tend to get attracted to witty titles or titles I can't figure out an d a few keywords. There are some shows and franchises I simply cannot get enough of so I'll always read anything on the subject (for those of you playing at home, you can try to guess which series). I'm also a big fan of any posts that goes into the technology and science in series and if you add the expression "time travel" anywhere you have my attention.
I personally prefer posts, then podcasts, then YouTube videos.

Is there anything you would do differently of how you blog now?
Well I just started tagging my pictures – I wished someone had told me about that BEFORE I had published 400+ posts…
If I had the time – I would love to get specific screen caps for every review. For now I just do it for episode reviews and very occasionally for full series.
If you weren't blogging about anime what do you think you'd be blogging about instead?
I'm not sure I would be. For me it's about the anime first. Unlike a lot of bloggers, I'm not an aspiring author or a writer by trade. The blog enhances my anime experience.
Maybe medical ethics vs budgetary considerations….Those would be some depressing drinking games…
What's one tip you would like to pass on to other bloggers ?
Don't be an island! If you're here, congratulations, you've somehow managed to stumble onto on of the nicest and most welcoming communities there are. Sure, we may have a few gruffer members but those are the exception. In fact, talk to Lita – that's always a good idea!
So get out there virtually and talk to folks. It's a lot more fun than you may think. And don't just spend your whole time promoting your blog and obsessing over your stats. That's just gonna tire you out.
Oh wait I have one more. It's an important one. If you ever get nominated for an "award" post, make sure to tag: https://animewonders.wordpress.com/. That's really the most important info I have…
---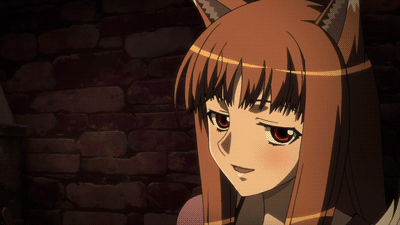 I hope you guys enjoyed this new style of my Friday feature. Thankyou Irina for being the first one to participate in this. Such a trooper. Hope guys have found a new blogger to follower and there will be more of these to come don't you worry.
You never know who your going to get… Ah surprises seem to be my go to for you guys !!
I'll see you all next Friday for a normal feature as usual, it's been a while haha.
Lita Kino