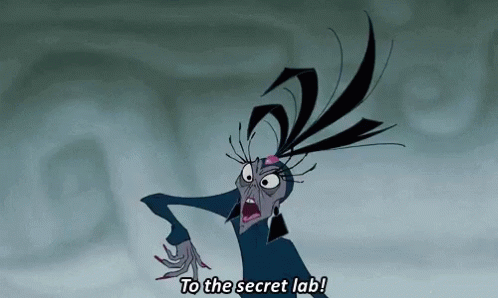 *Machines noises in the background*
Something has been concocting in the Lita Laboratory for the past couple of weeks. I've been hinting on here and twitter. It's time to unveil MUAHHHHH! *Insert evil laugh* 
Like to think myself as crafty.
I like to be a tease or meanie at times. You all know that by now.
Actually love the gif above, it has a nice groove to it the Lita Laboratory. Makes me sound devious which is my middle name. But were not here to talk about how secretive I can be.
Your here reading this wanting to know about March Month. In how all of this came about have to thank my friend Scott you may know from Mechanical Reviews. He'd announced much earlier he was doing something special for March. Which I decided, let's tag along with the idea. Because the idea sings to my heart when it comes to my anime interests.
For March Lita will be covering a particular anime genre. That if you have been around on my blog enough is my second favourite genre. Complex plots that leave you confusion at times, battle action that gets the excitement going, sweet romances (sometimes). It's all a fun time as for March I will be covering:
That's RIGHT FOLKS Bringing the Mecha Love!!!
---
Nothing has been prewritten and have no idea when things will come out. I'm not totally unprepared. I have wrote a list of mecha related posts planned but decided some blogging every day like last September. Which did suck the life out of me, this time around I'll be writing at my leisure. Now this will make things on me easier, but no clue how many posts I'll get out for March. It will at least be more than ten because there is so many ideas I have.
Terms of what kind of posts I'll be doing. They'll be ranging from lists, deep discussions and reviews. There are a couple of special collaborations I'm working on with a couple of bloggers, which will go up as well. I'm very excited I'll be exploring from some classic mecha to Gundam talk. There is never not enough mecha talk that goes around. I'm hoping I'll bring with interest and discussion with others. I know Mecha is not everyone's cup of tea but my aim to show that not every show. Is about robots fights because some I've seen over the years have deep stories. I just want to share my passion for this genre honestly.
There are some mecha shows I'll be revisiting and newer ones. Not sure I'll get around to all, talking about them. But there will be a mix for sure.
---
Honestly I'm ready to get started with Mecha March. Also don't forget to check out Scott who is also doing it. Bringing the Mecha talk !! There will be normal posts like owls that will go out as well, won't be all Mecha, Mostly.
But please comment below here or on my twitter, if you have any mecha shows or manga for me to check out. I'm happy to do first impressions for them. Would love some suggestions from people.
Feel free to share this around as I'd love to engage with as many people. Discussing the mecha genre with others gives me deep joy.
Well all the fun begins 1st March. Posts over the course of March will come out when they do. So just keep a look out.
I'm so psyched right now !!!! Wohoo!!
I'll see you all Wednesday as my Owls posts for our February tour. Will be out!! 
LitaKino