Day 11
Watched another studio ghibli. 
This 12 days of anime challenge has flown by so fast and were at eve time for Christmas already. Are you prepared? If your answer is no then that's fine, who the hell is ever organised properly for this time of year.
As the second last post this one and for the final day will be getting sentimental and reflective. For the first last day of this challenge chose to reflect upon how my writing and blog style has formed. Coming from a clammed up shell me to a shining pearl in how expressive I've become since starting out.

But before getting into personal terms wanted to high light a joyous, beautiful watch from this year. I still have not seen all 22 Ghibli movies but one ticking off the list was When Marnie was There. Feel bad for not seeing this film sooner as to how relatable I found it to be. Anna suffers from bad anxiety and impacts her on-going asthma condition, from losing her real parents. Spending majority of her life in orphanages it's let her close off from the world. Her foster mum sends Anna for the summer to her Uncle and Aunt hoping it will "Clear her head".
Anna used her love of sketching as her expressive outlet due to her unsociableness. Through this I saw why my blog exists now because in real life there isn't other individuals can take about anime. So before making my blog felt alone in my love of anime a tad that secretly just craved to talk to someone about it. Starting up a blog through google blogger didn't go nowhere and course nothing changed till coming to word press.
Anna didn't know how to express herself with others, she'd forgotten how. Starting up my blog within the first couple of months, honestly felt like throwing in the towel. As any blogger would understand, felt like no-one will visit my blog, read my lame posts. Putting myself out on that pedestal would leave me in disappointment. I think Anna felt like that also from moving family to family, maybe she desired not to feel disappointment. When being put with a new family but it's understandable the way she acted.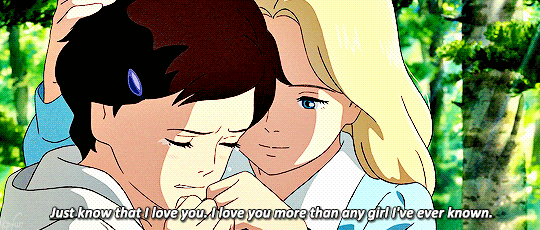 In my case blogging has become my rock to express my love of anime and Anna relates along the same lines. When Anna met Marnie it's like her whole world has been opened up and slowly let Anna become aware of her own feelings again. There is more to the story in When Marnie Was There but it's main ground theme in being able to express yourself. In whatever form, it would have been an obvious choice to not make an effort. Let my blog lay by the way side, pressing that delete button. All such a easy way out option but somehow find the motivation to put myself out there.
Not everyone is like this Anna wasn't sometimes takes a hand to reach out. To allow you to move in the right direction, Anna began moving when she met Marine. Nobody put out there hand to me so after all the blogs I visited, reading, liking people's content. That has got me to where I am today. 2017 blogging wise this year has been my best especially in how I approach each piece I'll be writing. This massive change has come from getting to know so many other anime bloggers and reading their content. Everything feels so much clearer when it comes to writing in general affecting my motivation levels highly. The ability to in what I wish to say and convey to the annual people who read my posts, my feelings.
Though don't feel my spunk in my blogging style will ever vanish. That is something that's always been apart of my style since starting blogging, maybe I've toned things down a tad. But not enough that would take away my enthusiasm throughout my posts.
Anna's character affected me greatly while watching When marnie was there. Marnie's high energy personality was like a breathe fresh of air for Anna. Something that swept in unexpectedly, it's how I see from all the bloggers I've come to know. Unexpected in so many that are good friends and with each new piece reading of theirs. It inspires me every time adding to how I'll express myself in more ways than one.
When Marnie was There was such a beautiful watch and one of the studio ghibli that needs to be spoken about more. It has a deeper premise than what I've gave you which surprised me about the movie. Well worth your watch friends.
Expressing myself has never felt so easier now.
---
Hope you enjoyed my piece expressing myself on for day 11 12 days of anime. If you want to follow all the other bloggers participating in this click here for the spread sheet. Also can use the hash tag on #12DaysOfAnime on here and through twitter to find more posts.
We are at the final day tomorrow CHRISTMAS DAY !!! wohooo!!! When we reach that I can breathe having completed 12 posts and videos accept for day 9 I guess but who cares.
Tomorrow saved best for last that hits right home. Well old home…?
For now time to crack open some cider, enjoy a special Christmas eve dinner with family. HAVE A MERRY CHRISTMAS EVE MY BLOGGER FRIENDS AND FOLLOWERS!!! 
I'll see you tomorrow !!
LitaKino