Day 4

A studio caught my eye this year. 

Some people say when it comes to anime that doesn't matter what studio is behind, whatever series. I'm someone who does not believe in this from watching certain shows of a particular studio. P.A works popped up on my radar back in 2015 from viewing Nagi No Asukara. I've already spoken about that series stealing my heart focusing on a group of middle schoolers. Their feelings, bonds towards one another expressed in a innocence sense. It made me curious afterwards what other series were out there. Nagi No Asukara gave me a first glimpse into P.A Works ability to delve deep in emotion factor.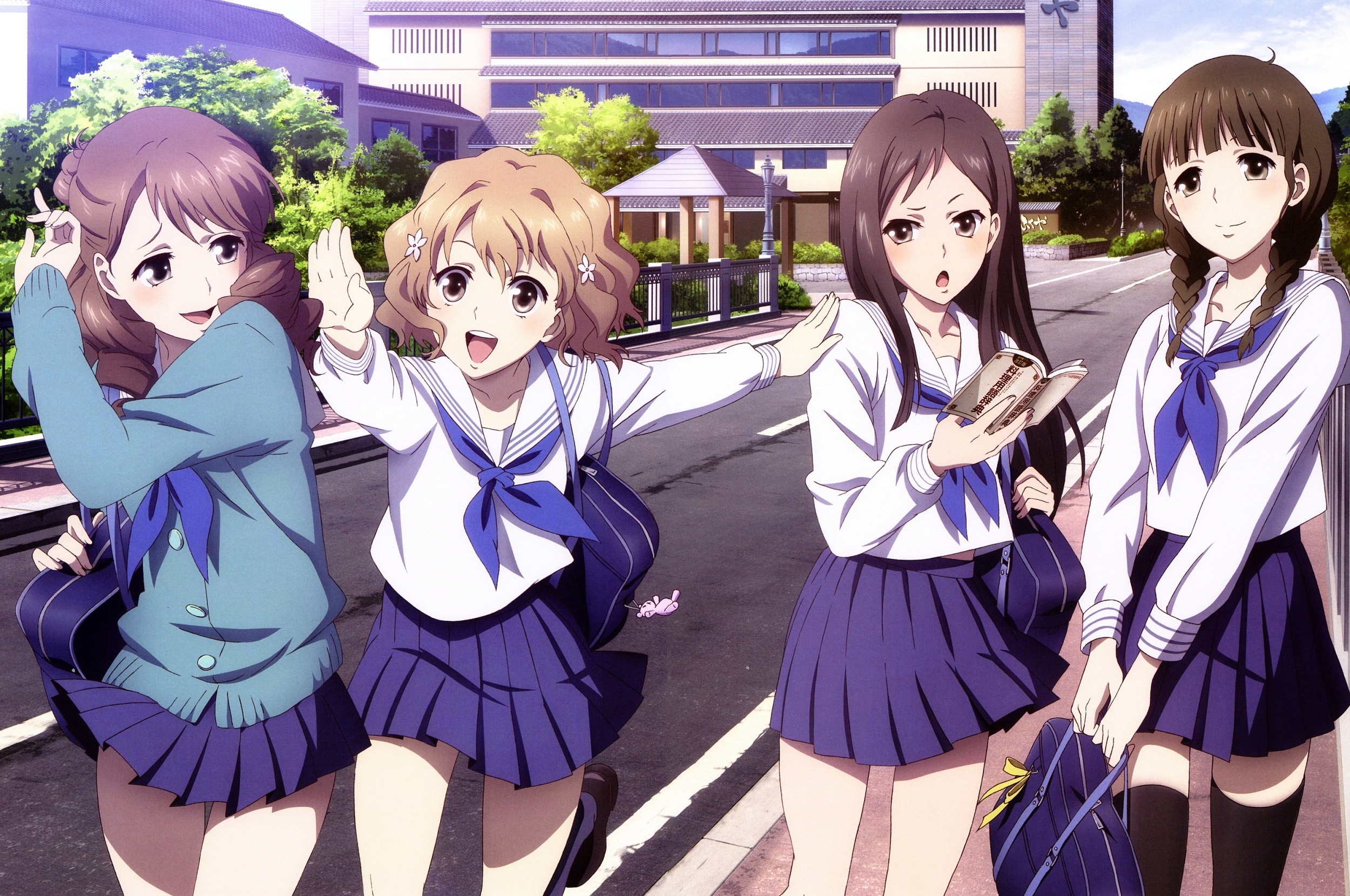 Since then from watching Charlotte in 2015 and HanasukaIroha only this year. That same impression has carried through while watching these series. Aside from visually beautiful animation P.A Works is known for, but emotion factor to me is their main driving force. Hanasuka Iroha in particular stood out, the main protagonist, Ohana is sent to work for her Grandma and Kissuiso Inn. Ohana finds comfort among the people at the Inn  bringing change within herself. Also affecting the people around her, learning the inner emotions why they love working at the inn.
I still have to finish Charlotte but back tracking focusing on Yuu transferring to a special academy. With people like him having supernatural abilities then having to join the student council. Members of the student council you learn individually what's it's like to have their ability. How it effects them in real life. I remember it striking a personal cord in dealing with being different. It wasn't till watching Charlotte has an anime made me feel this way.

Most recent series watching from P.A works finished airing couple of months ago, Sakura Quest. Still have yet to finish this but focusing on Yoshino having no luck on the job front. She takes on a job out in the country for a strange attraction known as "Kingdom of Chupakabura". Being the part-time queen. Yoshino meets four other women in the town where they form a group. To try to bring tourism to the quiet town and attraction again. The series has a calm vibe throughout and you learn for each of the girls, what the town means to them.
Their genuine feelings, passion to want to revive the town's tourist appeal, made me  invested in their efforts. Their growing connection and learning more about one another. Brings them closer and naturally felt for them to want to succeed in their goal.
I've built up a new appreciation for P.A works, in what I've seen so far. That is a lot of care that goes into everything. While back watched a video by Australian youtuber The Canpia Effect interviewing president of P.A worksKenji Horikawa. Haven't watched part two but part one was interesting to the learn background, where it all began. Kenji Horikawa describes his different approach to his work in a simplistic way. After watching this interview convinced me more in what thought goes into each series, they create. Recommend watching the interview for yourselves.
P.A works has explored trying different genres like 2016 mecha series Kuromukuro was a big leap for them. Which I'll get to discussing for the 12 days of anime. Something that remains true in their works is having a simplistic nature in all of them. It's easy to become invested in the characters emotions and the realistic aspects relayed in each series. I love this approach and the reason why they will always have my attention.
---
Hope you enjoyed my piece on P.A Works for day 4 12 days of anime. If you want to follow all the other bloggers participating in this click here for the spread sheet. Also can use the hash tag on #12DaysOfAnime on here and through twitter to find more posts.
Day 4 done and for Day 5  I'll be talking about personal xmas recommendations. 
Comment below any thoughts you may have
I'll see you all tomorrow !!! 
LitaKino