Wohoo! I have joined officially aboard the Drama train and fulfilling another one of my goals for this year.
Decided it was high time I sucked myself into this addictive world that so many girls loves so much, but deciding what would be my first watch was a bit hard. One of my good blogger friends Lyn directed me to drama fever where the list of dramas were endless. After looking around the site to my disappointment I can only watch few shows as I can't watch most of them due to country restrictions, which sucks. I don't know what I can do about that at the moment, remembering crunchy roll surprisingly had some dramas on there site, decided to check that out.
After browsing I decided on Mischievous Kiss  took me long enough to remember that this drama is based off the manga/anime Itazura na Kiss. I have only seen the anime which I secretly enjoyed and remember also Lyn telling me there was 3 dramas of this series. The other two are Taiwan and Korean dramas, I was like there's 3 of these o.o haha bit crazy.
---
Out of the three dramas I watched the Japanese version, and the verdict… I just want to go back and re watch it over and over. As much as I enjoyed the anime, I think the drama is far better, going into watching my first drama had no clue what to expect. For the first few episodes took me a while to get a feel for the actors and casting choices, particularly for Kototo and Naoki.
Honoka Miki who played Kotoko did a fantastic job. Honoka really brought her character to life, everything was on point. When she would over fantasizes when it came to Naoki, her optimistic outlook on trying her hardest and quirky, fun personality. Even though how much I loved this Kotoko, by god her dumb founded nature could frustrate you, and always seeking Naoki's approval to do anything . There were at points in the series, Kokoto would act before thinking and speaking honestly. That kind of upfront personality is confronting and a reason Naoki began to fall for her. Kokoto may seem like this useless character but I admired her so much more while watching the drama, her determination to win over Naoki. But I felt for her as, her character demonstrated love is a battle field but noone in real life could put up with someone like Naoki. In my head I kept being brought back to remembering watching the anime and seeing that Kokoto, the transition to real live drama Honoka was the perfect Kokoto.

Yuki Furukawa who played Naoki, at first I was unsure if he could pull of such a arrogant, cold – hearted character. I had my real doubts but while watching the series it turned into hate, love, hate, love cycle. To my surprise he played the ideal Naoki, His cold, vulgar acting was very believable in scenes with Kokoto. Yuki was not a appealing Naoki to me in the beginning but by the end, loved how he portrayed this hate, vulgar guy. Naoki's character in the anime was not a very expressive one, so Yuki's short, sharpness towards people I liked a lot. In a good way his character left me feeling frustrated and tugged feels which to one point I wanted to hit him, so shows Yuki did a dam good job.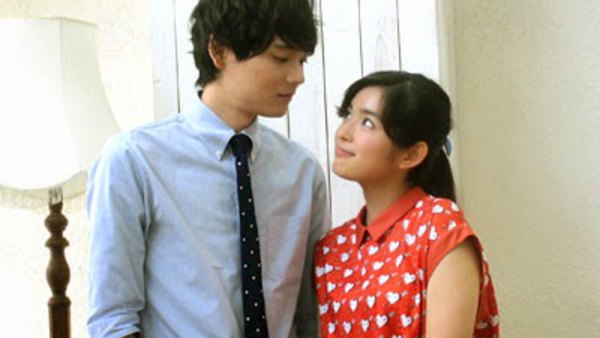 Together as Naoki and Kokoto their performance was even better. The Japanese for me know how to pull out all the stops when it comes to romance. Again I kept getting taken back to the anime in my head, I felt the same feelings as I did watching the anime. Frustrated, teary, angry and happy but the drama took it to the next level. It was a slow torture to get to the point of them being together, but the pacing of their relationship was Idea. I'm glad the pacing wasn't rushed and got to watch Kokoto and Naoki grow as characters, through all the ordeals they endure. I can't really say nothing more about them but the portrayal of Kokoto and Naoki's relationship in the drama was more than believable and loved every second of watching these two.

As for the other characters, Satomi and Jinko, I didn't really care for in the end, they added to the explosive humor ,But that was about it. I mean they bailed on Kotoko during Christmas eve for their boyfriends, who wants friends like that? Side love Kinnosuke who nearly the entire show chased after Kotoko. I felt so sorry for him for all the rejection he put himself through, though he was hilarious and his "Be a real man" attitude added to the laughter. At times I felt he would have been better with Kokoto but Naoki somehow managed to sneak underneath to rope Kotoko in again. I really loved Kinnosuke's character but I don't think personally I could put up with the overly doting he did towards Kotoko.
---

I was really glad to see this show had two seasons as it would have left a good chunk out of the story, Mischievous Kiss for my first Drama watch was the perfect choice I enjoyed myself way too much. Currently at the moment I am watching the Taiwan version of this show Playful Kiss. This is the Korean version and it's quite interesting. Maybe I will do a comparison on both but I would recommend to anyone who has never seen Japanese or Korean drama of this anime to give it a go!! 
---

I hope you enjoyed hearing my thoughts on  my first drama,
Please comment down
below if you have seen this series 🙂

I'll see you in the next post !! 
LitaKino