Introducing anime to non anime fans for the first time is one of the most periling things I find in this hobby. You can search up in google all these millions of lists "Beginners guide to anime" "Non anime fans beginner lists", all these lists based on other people's opinions, of what anime's would be the best picks to introduce to non anime fans. The majority of lists I read have only have all the of the most popular anime out there, Cowboy bepop, Full metal alchemist. I agree with suggesting some of those popular titles as they are a lot of anime fans gateway into anime themselves but lists like this is not giving non anime people, the full scope of what anime has to offer.

Which is why I have decided to take on this controversial topic/list, put my own opinion and picks out there. All these anime beginner lists, not everyone is going to agree with your choices, opinions, you can't please everyone but only put out there what you think. I want to make one thing clear about my list is every series, I'll be recommending I have seen and will be giving a short summary of why you should watch these series.
I've chosen 10 anime and deciding my choices wasn't easy. I simply tried to put myself a few years back of the kind of shows I got into and use this personal aspect to create this list. Nothing will be in any particular order Let's get into this list !!
---
1.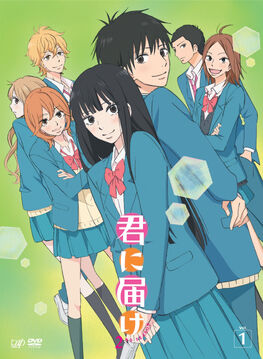 For those who love the romance in general I recommend Kimi no Todoke/From Me To You. The story follows Sawako a awkward individual who is always misunderstood by others.She experiences many new things in life of making friends and realizing her romantic feelings for popular guy Kazehaya. You may find yourself relating to this series as your taken back to your high school days of how hard it is to make friends, having all those lovey teen feelings for someone you really like. The main focus of the series is Kazehaya and Sawako's growing relationship, this is incorporated well with all the sideline happenings that occur with other characters. At times things can get slow in between the relationship growth among the characters but it's well worth the watch and build up towards the end. This series I feel first time viewers will find something to relate to the show with from a personal aspect and will hit the mark for romance lovers out there, truly is a endearing series to be seen.
---
2.

For those who have classic taste or like fantasy based stories I recommend a anime 90's classic The Vision of Escaflowne. This series was my introduction into older classics and leading to my obsession of unknown rare titles. The story follows Hitomi an average high schooler with an interest in Fortune telling and tarot cards. She has as a premonition come true meeting Van Fanel a would be king who just lost his homeland. Through a pillar of light they are both transported to Van's world Gaea. Escaflowne people have thought it just about Mecha it's more than that. The fantasy genre always can surprise you, plots involving going to a different world is very exciting. Escaflowne is quite the entertaining ride of waging war and blooming romances. There's plenty to keep viewers guessing as quite unexpected plot turns occur. For a fantasy anime it's more than what first time watchers will expect compacted together beautifully, romance, plenty of action, and dark twists.
---

3.

For those who love being kept in suspense and supernatural lovers I recommend Ghost Hunt. Spirits, unexplained happenings and ghosts this series has it all for those who thrive on mystery and thrills. The story follows Mai a high schooler who accidentally damages some equipment belonging to Shibuya Psychic Research. To repay for the damage she becomes the assistant of the CEO of the company Naru. The series is divided up into different cases Mai and Naru take on with their group. It only gets more creepier and intense as you watch each case, the suspenseful background music adds to eventfulness this show has to offer. Ghost hunt knows how to create the ideal gripping atmosphere and the show, I think is a great introduction into the supernatural anime genre.
---

4.

For those who love a good laugh or need something outrageous I recommend Full Metal Panic Fumoffu . This a spin off season but I would recommend watching the first season. As knowing the characters adds to the humor but I don't feel it matters too much, up to your decision. The series is about the crazy happenings of military maniac Sousuke Sagara and class mate Kaname Chidori. Sousuke knows nothing of normal life only all military so drives Kaname crazy 24/7 at school. Outrageous is the perfect way to describes this series, from blowing up shoe lockers, to horse head freaks who adore ponytails, I guarantee you will laugh. This series is a great way to let loose and introduces you to the humorous, insane side of comedy anime.
---
5.

For those that love action and liked to be kept entertained I recommend to you Gurren Lagann. . The story follows a young boy Simon who all his life has lived underground, one day meets energetic Kamina who wants to make a mark for himself. They both stumble upon a Ancient object which Simon activates dragging them up to the surface, discovering it's some sort of mini robot head. They name it Lagaan, as they journey together, exploring the surface up above. Gurren is one of the craziest shows I've ever watched but with such a upbeat, heartfelt cast of characters you'll find yourself getting attached to. Not for a second was I ever bored and is a series you can just have fun with, without taking it so seriously. It's a show about human growth and how you can accomplish anything. If anything this series will do for you is give you much enjoyment.
---
6.

For those who have darker tastes and don't mind the game of life or death I recommend to you Death Note . The story follows high schooler Light Yagami who finds average life boring, light finds a book called the death note where if he writes anyone's name in the book they will die. The book belongs to a shinigami Ryuk who joins Light for the thrill ride, as Light wishes to make the world a better place, with the power he possess's now. This is one of the most well known anime's out there and it would be cruel for me not to add it to my list. In every aspect this show is thrilling to the max, with a very strategic plot that makes you think, leaves you with many questions. Being kept at the edge of your seat is what this series does best and cannot deny is a great anime introduction into the darker genres.
---

7.

For those that like unique stories and something heart warming I recommend Kobato. The story follows a girl Kobato who comes to earth to fulfill her dearest wish of going to a certain place. To fulfill her wish she has to fill up a bottle filled with "Konpeito". Which is after a healing a person's heart that is suffering, this could be if they are stressed, sad or something negative is going in their life. However she is not allowed to fall in love with anyone's heart she heals. This charming series has the ability of when you watch it, to make you reflect on your life. Kobato's kind nature and sweetness is infectious, of her wanting to help people and heal their wounded hearts. It's a very interesting concept the plot and with visually stunning animation adds more enjoyment to this anime watch. Kobato is a wonderful series that draws on the wonders of life and how people live day by day.
---

8.
For those that like shows drawing on real life aspects I recommend Clannad. The story follows Tomoyo a delinquent who doesn't believe in a lot, he soon encounters a shy, quiet girl Nagisa. Eventually both become friends at first Tomoyo is hesitant as he gets to know Nagisa and the other girls he befriends. He soon realizes life is not as dull as he thinks it is. People will tell you this series will just make you cry only and nothing else. Clannad at points really knows how to tug on it's viewers heart strings but it's not why its on this list. It's truly a beautiful series about the bonds of people and how meeting new people can change your life entirely. This is brilliantly demonstrated through the cast of unique, quirky characters, who all have their own story to tell. The series has a great overall balance of humor, romance and seriousness about life, that makes this anime such an enjoyable, emotional watch.
---

9.

For those that love magic and adventure I recommend Fairytail. The main story starts off Lucy a celestial wizard who runs away from her rich life to join a magic guild. She meets Natsu fire magic dragon slayer who was raised and trained by a dragon. Lucy ends up joining Natsu's guild known as Fairy tail. There are many popular mainstream anime and Fairy tail was the funnest to watch. This series has such passionate cast of characters who demonstrate the striving will to never give up and the strength of friendship. Going on jobs, magic, being a wizard, becoming part of a guild there is no end to the excitement. I feel this series is a fantastic introduction into anime itself and has much excitement to offer.
---

10.
For those that like shows with war elements and strategic plot thinking I recommend Code Geass . The story follows Lelouch banished Britanna prince, is caught in the middle of the war between his empire and area 11. He encounters a strange girl C.C who gives him the "power of absolute obedience", where by a person looking into Lelouch's eye. He can only use his power once but that person will fulfill anything he desires. With this new found power he plans to take revenge against his own empire. Code geass is to me is one of the best strategic thinking shows, that really gets your brain going. This show is jammed packed filled with so much going on, strained friendships, political issues, rivalry, complex ideals. It takes on board all of these things piecing them together so well to create a entertaining watch.
---

Were at the end…. honestly this list took me longer than I thought it would as choosing the anime's was not an easy decision. I hope you have found this list useful in some way if you have a friend that is interested in getting into anime or you yourself is. I am pretty satisfied with my choices but do feel when I get around to watching more of my plan to watch anime's I can create an even better list.
Please comment below any thoughts you have on my list or what shows you would introduce to an non anime fan 🙂
I'll see you in the next post !!
LitaKino