UPDATE TIME !!!

Hello readers, blogger friends, EVERYONE!!!
It's been since February since I have done a update for my blog, so thought it was high time to keep you all in the loop of the happenings. I have to admit over the first half of this year I feel I'm doing okay on blogging goals for 2016 I set myself at the beginning of the year.
Goal Status So Far
– Being active every week even with just one post
– Anime/Manga related content has increased to nearly 50% but not enough in my eyes
– Reading 50 manga have only read 5 pretty poor (Will include some short reads to increase this I keep picking long manga's to read is why this has not increased) 
– Anime collection update (I did this in a video which I'll post down below so in my  opinion goal met) 
– Collecting unfinished Anime (so far Rurouni Kenshin has been the only one better than nothing)
– Watch K Drama (not got around to this)
– Watch Full Metal Alchemist (on the last few episodes will complete this goal this week) 
– More collaborations (Big fat zero so far, anyone who wishes to change this tweet me or comment below
These aren't the best results for half a year so far but these are just goals I set for myself. I don't think I planned or time managed everything well so I'll try to do better in the next half year. Hopefully by the end of the year I can tell you I completed everything. 🙂
---

Writer For Unime Tv
So a while back I may have announced somewhere, I can't actually find the post anywhere haha. Anyway I announced I had joined the blogging team at Unime TV  , I can't think of how long I have been with them for now, least a few months I guess. You may have seen the odd article from me, I mainly write reviews, lists and currently thinking up new ideas. It's been so fun joining Unime, I love my team especially Lyn and Lisette but boy they keep me on my toes haha crazy girls. I decided to join this group because I believed in their cause for creating a social network site like no other out there. I will admit it's one of the reasons why I only manage to get one or two posts done for my own anime blog, but I have learnt how to balance out each others. It's not easy weighing up a equal balance with everything else I do for example my youtube, but I like having to keep me busy. Writing for unime has benefited me greatly writing wise, feel I have gotten better with my writing skills and can only continue to grow really.
If you haven't checked out our site yet then pop on over!! You may see a few familiar blogger faces who also are apart of the unime team. Currently we in the midst of about to launch our beta site and pateron page it's very exciting 🙂  *wink*
Also if anyone has anything they would like to see or happen on our site we are always wanting to hear others feedback 🙂 
---
It's been since March I announced I was not going to let my youtube die and certainly hasn't. I am just a idiot for never posting new anime videos I do on here, which I need to remember to do, as some people may not even know I do youtube. My goals for youtube currently are to do a least two or one videos a month or whatever really pops into my head. I don't really need to explain my whole internet thing again to you all, one thing I wish to do more of is live streams.
Just this past weekend I finally did a live stream which had been forever since I last did one. I'm discussing the summer anime season as a lot of shows airing have really peaked my interest. So far I have picked three shows, I may follow weekly but I won't be doing episode reviews for my anime blog, instead I may pick one show and review it for Unime Tv. . I am not sure how it will pan out currently but I don't want to miss out on this season.
Whenever I do a live stream from now on I'll post about it on advance on here, as I always use twitter to announce whenever I do one. Quite a few blogger people come to my live streams I have noticed the last two times I've done, so I wish to include more of my readers and blogger friends. The latest stream was very fun, as quite a few familiar blogger friends turned up so feel free to check out that stream above.
I have many many plans for youtube videos I wish to do, have my handy notebook I always write in, just like for blogging ideas. Here are the most recent videos I have done:
---
July Convention and Cosplay
15th to 17th July
This may be a bit of a surprise but I have not been to a anime convention for over year and a half. It's not that I had lost interest just no longer knew anyone who I could attend those events with, until when I befriended someone at work who wanted to go. I had no interest in going to this particular convention as last year was the first time I had no gone. Every other year I had gone but now thanks to my friend looks like I am attending.
I am rather excited and I know this will never be my last convention. Finally did end up deciding on a character to do, as that decision for any cosplayer is so hard. I'm not going to reveal who it is yet, closer the date I'll post up a teaser pic on here and twitter so stay tuned for that. If people comment enough below I may leave a hint! 
---

More Blogging Time + Other Things
Due for certain reasons can't say anything yet but by the start of July, I will have some more free time to blog things. I am hoping this next half year to do more anime reviews, I've missed doing them, as how my current life is, seems only to manage one every month. I do wish to increase this same with manga reviews but everything will change next month, I'll be more clear about that around then. 
One change I am making for myself is when it comes to buying anime, I wish to buy titles from my "Plans to watch list" from my anime list. My list is ever growing and there are so many anime's like free, steins gates, lovely complex, for example I've wished to see for so long. Hopefully by the end of this year I have ticked off some of those anime's off my list, if your curious about popular titles I've not seen click here. Obviously I'll only buy if I can afford it but knowing me I'll be taking that leap 🙂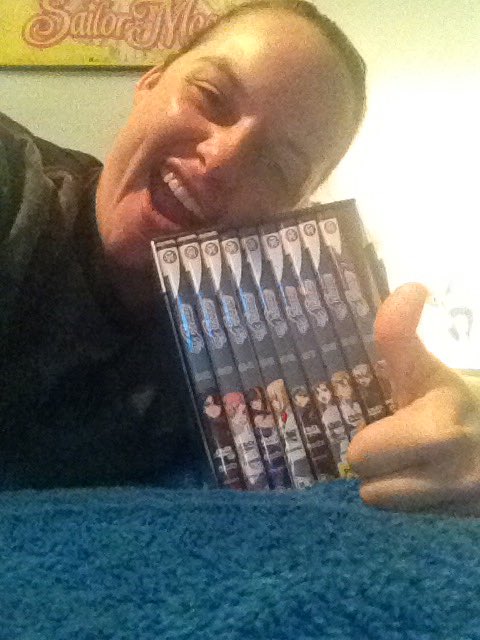 ---
My Friday features over the month of may had only just returned and I failed at posting weekly during that. I would like to say I full intend to put this back to a weekly thing but I have had ideas of always switching it up, as so many people love this segment apart of my blog. I love writing them, going to try and write up my features on a Thursday night to time manage this as I never did that before.
So expect WEEKLY FROM NOW !!

---
Like my Friday Features as a weekly segment in April I introduced a monthly segment my nerdy favorites. I wanted to write about some of my other nerdy interests along with keeping you guys informed about what anime, manga, song I'm currently into. I failed last month to write one up as, last month was just busy for me and had no time to get into anything new. June is more relaxed so you can expect this will happen and my monthly segment will always happen towards the end of the month.
Click here to read April Favorites
---
I think pretty much you guys are update to everything on my blog currently, obviously if anything changes I'll let you all know. I feel I never got to say it before but Thankyou to all the people that follow me and enjoy my blog so much. Over the last half year so many new people have started following my blog, people commenting they think my blog is fun. Never in my wildest thoughts would my blog be where it is now over 200 FOLLOWERS WHAT THE HELL !!! I feel I am going to have do something to celebrate this occasion. As I've not had time to think about which is sad to say. My blogging drive is more fired up than ever for all the positive feedback so THANKYOU EVERYONE !!!!
So………
As always
I'll see you all in the next post !!!
LitaKino