Anime: Nagi No Asukara/A Lull In The Sea
Published: 2014
Genre: Romance, Drama , Fantasy 
Producer: P.A Works
Episodes: 26
"Melted into the sea, melted into the air, going beyond time. The feelings are passed down. This world is full of shining feelings"
I feel like going for a swim now !!!
Welcome everyone to another review!!
This review I am about to give you has been the most eager I've wanted to write out of all of the ones I have done so far. This anime I heard about from my good blogger friend Taku which you can go read their inspiring review here, we had been talking about this series in many chats yanking on my ear to finally watch the thing !! This Christmas from my family they bought me the series, my eyes were in STAR MODE, finally I watched it…. the most feely, outstanding anime series I have seen since I fell in love with The Vision Of Escaflowne. So TAKU this review goes out to you as Lita reviews the beautiful, rip tiding A Lull In The Sea.
Story/Plot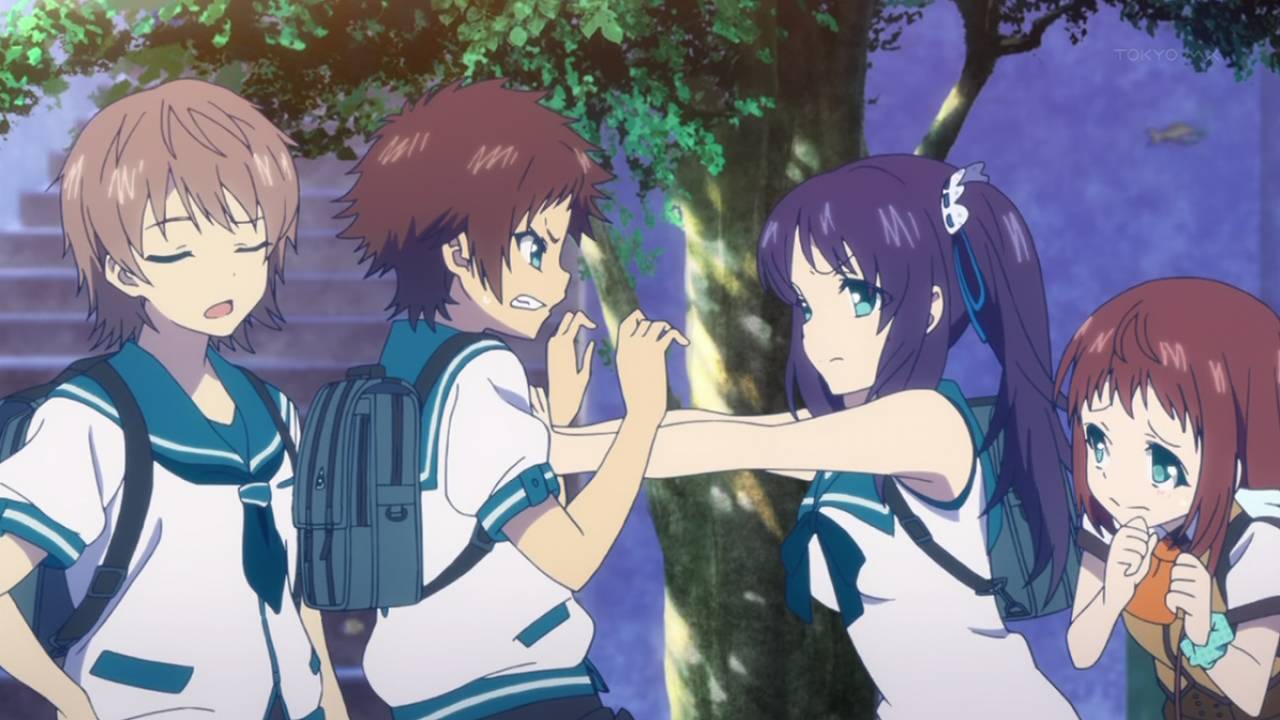 Once long ago humans lived in the sea but too many wished to live up on the surface, the lands were divided by the sea god. The story centers around Manaka, Hikari, Kaname and Chisaki who are from the sea village Shioshishio after their school closes down, they have to attend school on the surface. Fourteen years old, adapting to the surface, new school, a load of hamstring feelings come along with adjusting to all the new changes and emotions between each other. Befriending three others, Tsumugu, Miuna and Sayu watch as the whole group go through a rip tide of emotion all together and discover new things about life and their own feelings.
The Review
Land is just plain boring… Can I just live in Shioshishio? PLEASE!!!
I mean what I say can I just live in that sea village I would be happy for life. Can I firstly start by saying P.A Works YOU AMAZING BEAUTIES!! for creating such a masterpiece, I keep wanting to kick myself up the butt for not seeing it sooner but it has been worth all the excitement. This anime has worked it's way into my top list of favorite anime of all time already so what does that say? Lull in the sea left me in a pool of feels that I still don't know what to do with, the rip tide of emotion this show spills out in every episode was astounding to me. Never had I feel in love with a series so much since The Vision Of Escaflowne that was…… 6 years ago, don't get me wrong in other series I have seen, I've loved them but Nagi no Asukara is special.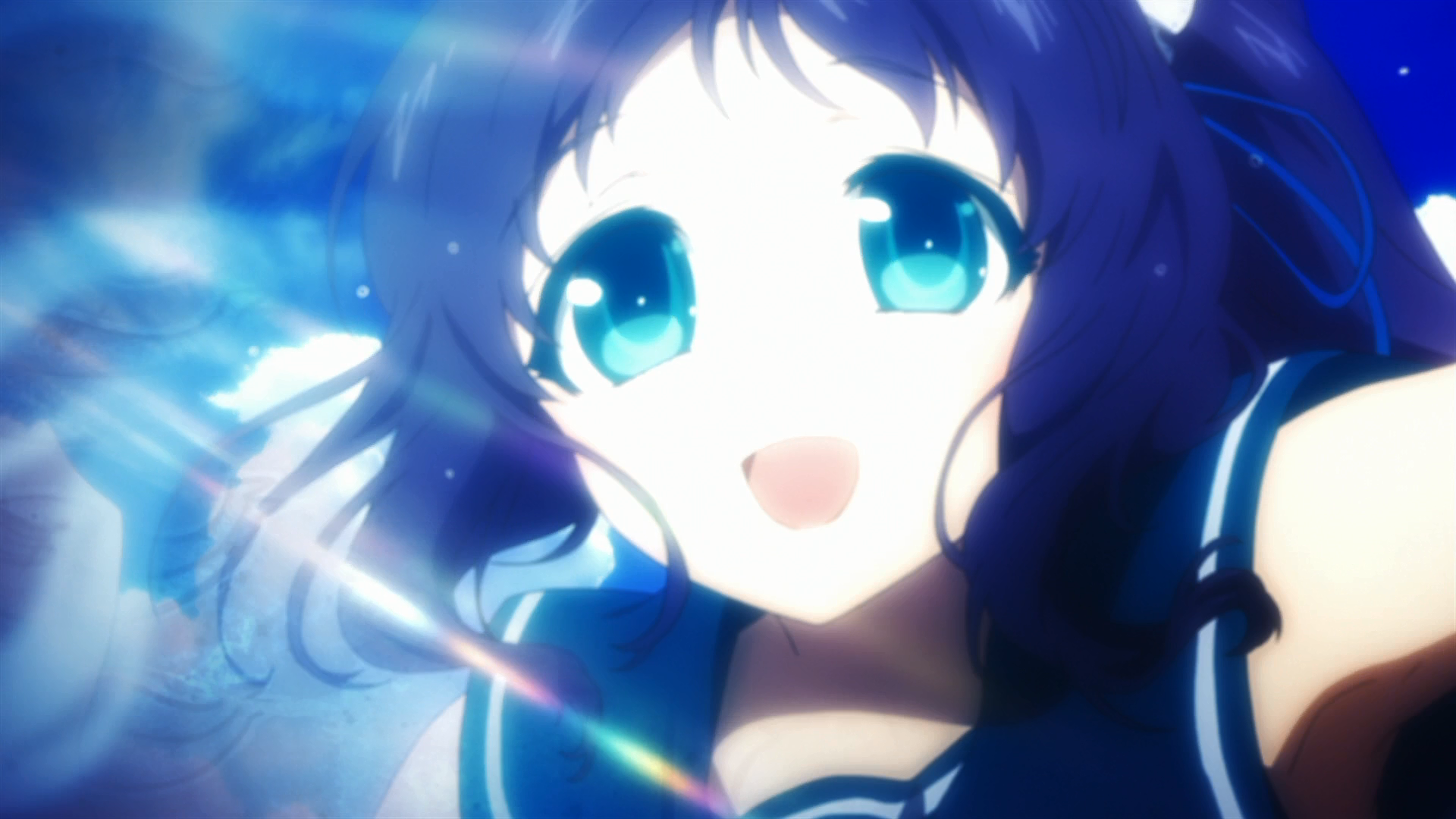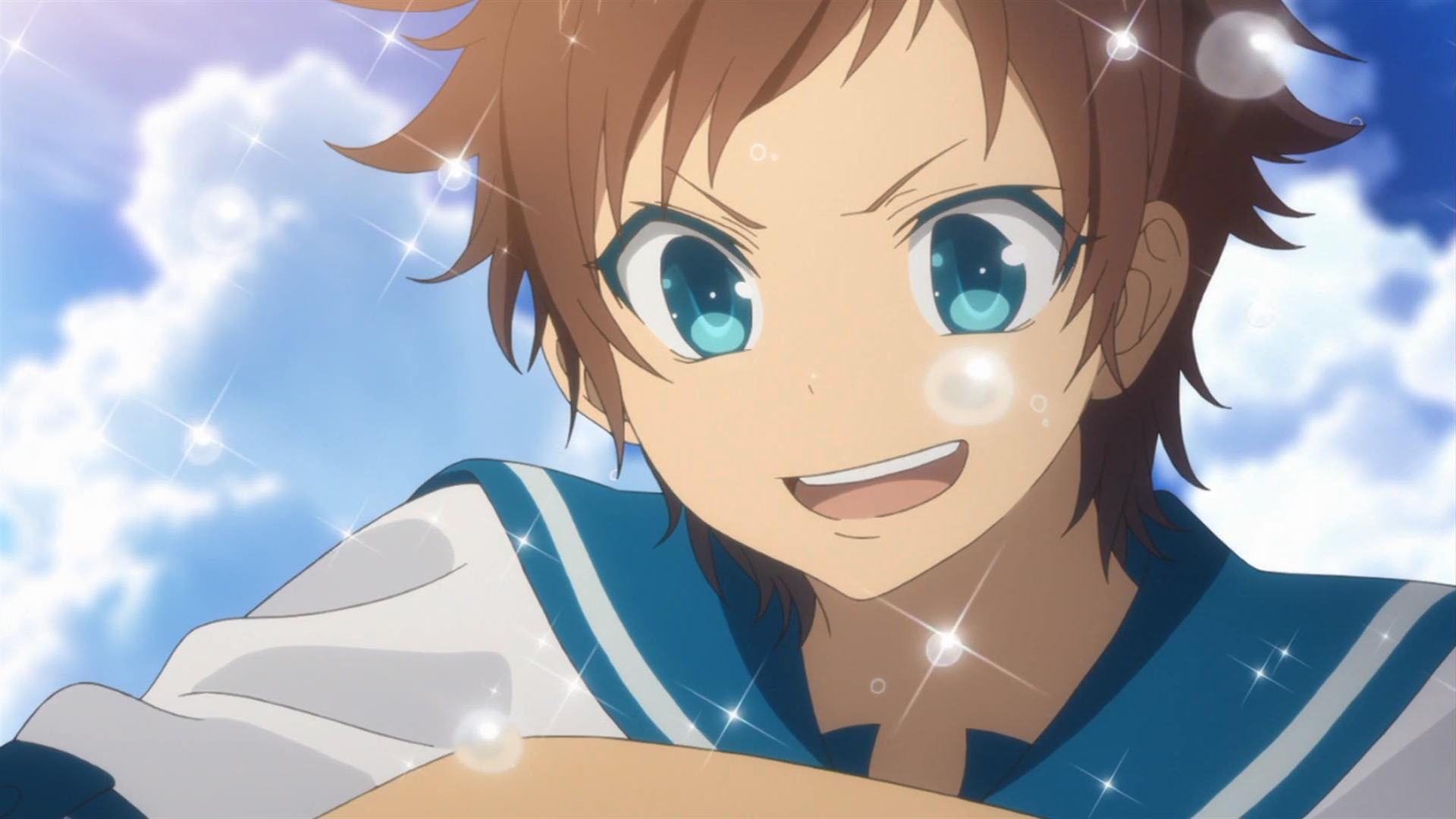 Special indeed in all aspects from animation, music, plot and characters. Showing lively youth at it's finest through Manaka, Hikari, Chisaki and Kaname, Tsumugu  Miuna and Sayu some very well developed characters with loads of individual personality, very likable characters. This group of youngsters were the center of all the emotion this series spilled out I can't even put into words of the amazing way it was all done. The interaction between all the characters was very solid and still is when it came to the mother of all love triangles, I've never seen an anime with such a complicated love triangle EVER!! All different forms of love packed into one triangle, unrequited, hurtful, watching this love triangle frustrated me so. This is one of few complaints I only have about the series is any of these love triangles really going anywhere and without spoiling one unrequited love was just wrong to me WRONG!!! There are I guess a couple of conclusions to this love triangle that made me happy but as frustrating it was, can't deny all of truthful emotion masked some of the complications. From the romance aspect it was done splendidly without making me feel like "okay so over you love triangles" but if that not been that big surprise to me half way through the series I would have been saying that.
The relationships and romance are the series main factors don't be put off by what I've mentioned about all the love triangles it was indeed so heart warming and beautiful. Done in a way as I'll mention again that doesn't really leave any of the characters out of that triangle, each character has their moment, very easy to define individual feelings. It's not just based around all romance going's on but other forms of relationships friendship and family, it was a joyful process to watch it all bloom out and all these emotions unravel eventually. It's a series that is suppose to tug at your heart strucks just a tad but if your a hardcore romance fan then it may hurt a lot. (I should know) 
I love all the characters in the show ALL for many different reasons. Hikari stubborn boy out of everyone I felt really represented his people, the sea people most strongly for both wanting the land and surface people to get along. Hikari can be a meanie though when it comes to Manaka making her cry endless of times, Meanie. He had so much spirit, determination and that was most refreshing to see in a character. Manaka such a adorable girl and had me mostly laughing half the time, her character is so pure and innocent quite hard not to love her free-spirit personality. Chisaki was a favorite of the series out of the group "The serious thinker" most of the time she was afraid of the friendships she had with the others would change. Half way through the series that way of thinking becomes more serious and the idea of were all afraid change, that trait was represented through her character brilliant. Kaname is the cool guy, I loved Kaname but he was my least favorite character when it came to personality a little, he is always the same playing it cool, everything is all good. At times it did irritate a little as I was beginning if I would see more of his character and if you watch the anime you'll find out if you do. Tsumugu his character can seem as bland as a board as he doesn't really say much but being another serious thinking like Chisaki he does begin to open up over the series and was quite amusing at certain points.
For my opinion on the cast for the english dub I thought was rather solid was hard to adjust to Manaka's voice though so squeaky but everyone else's characters I had no issue with. Bryce Papenbrook playing Kaname surprised me I couldn't tell as all I remember him for is Jerk Eren from Attack on titan was nice to see him playing a laid more back role. Michelle Ruff played Manaka whom I said her voice was hard to adjust to but was a very different role for her to play as we all know her as Yoko from Gurren Lagann, though doing childish Manaka I thought she did well. My favorite voice was  Brianna Knickerbocker who did Chisaki don't know much about her but I felt she fitted Chisaki's character rather well. 
The tying emotions is one of things that makes this show special. P.A works did a out of this world job on the animation, I mean look at the images above the way they captured the sea and village undeniably amazing. Everytime I look at it just makes me wish I there in that moment, wishing I had Enya to breathe underwater and look at the beauty around me, it's a very good thing if a show can make you feel like that. Been a long time since a show made me feel like that when it came to the animation, last anime that did that to me was Munto Tv . P.A works best animation yet I have seen from them they really surprised me, from the shining sea to the stone bulidings. What first struck me to this series was all of the characters eyes, some of the prettiest anime eyes I have seen, crystal clear and heightens each characters facial expressions. The animation sets the magic this series brings, ties with every scene, down to every emotion, I could feel it in every episode I watched,  this animation work is something to be acknowledged greatly.
Since I finished this series I've been listening to the OST non-stop, oh god… let me find the word for it: Heartfelt. The whole hour and bit of listening to it is full of so much heart, now I'll admit I have not listened to many OST's never had much interest in that till I started blogging but lull in the sea one can guess will be a favorite. Haven't broken it down to certain pieces in the OST I love yet because I only started listening to it a day ago but it's something I can listen to all the time while I am doing blogging or my art work, it's a soothing remedy of calmness. All the openings and endings I love to death pretty much all fit so well, the lyrics match capturing about the four main characters and their emotions, it's just beautiful. Out of them Opening two "Ebb and Flow" By Ray is my favorite, don't listen to a lot of slow anime music this is the first of many I love, If you ever have chance have a listen to the OST promise worth the listening to your ears.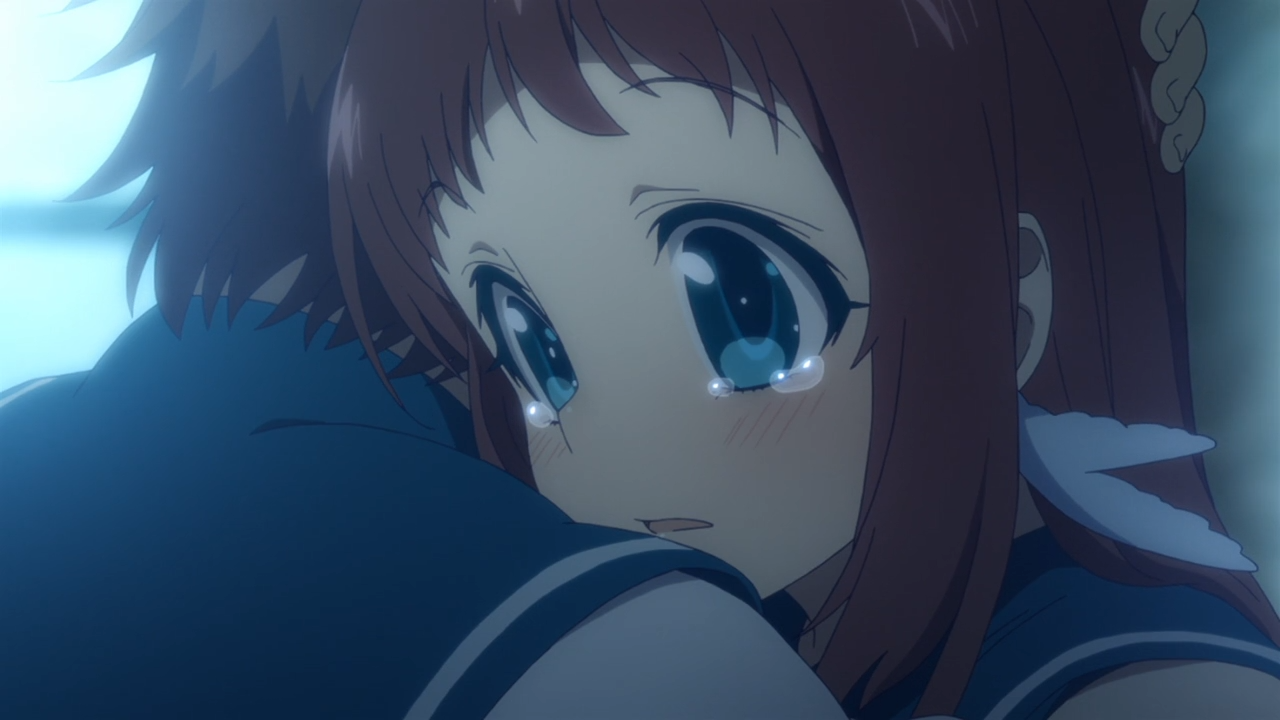 A Lull in the sea will be a waves of many emotions and you will be swept away for the ride, I should know I was to the point made me bawl my eyes out. The plot to this series is all original not from a light novel or game, it is really refreshing, makes the series unique in it's own special way. Thought there are a few unexpected turn especially half way through the series which totally threw me off and just made the whole story that more interesting, please believe me when I say that. The only thing I didn't like about the show was all the love triangle frustration, and that is it really something minor, I expressed some other minor things that annoyed me but this anime is worth anyone's time. Even if it's just something pretty to look at because IT IS PRETTY TO LOOK AT !!, the reason the show has become special to me is the thought put into the relationships and emotions that arise, just done in such a beautiful way that did make me cry and you have to just watch it to experience it. It shows feelings for someone will never fade away, it's never wrong to love someone and quoted from Manaka's "Love is like the sea" forever unpredictable and changing. A Lull in the sea has much heart, youth and life changing experiences we all experience ourselves day to day and by the end of may want to make you go swimming with all the fishes !!!
I hope you all enjoyed this my review on Lull In The Sea ❤
A show that will come up again and again I have a feeling, Hope you enjoyed Taku, Please comment below any thoughts about this review or series 😀
Will have a discussion down below !!
I'll see you all in the next review !! 
Follow me on Twitter to find out what I'll be reviewing next 🙂
LitaKino