HoHoHo!!
Hello one and All !!
Whoooo, Christmas is only five days away my friends, hard to believe it has come around so quickly it's crazy. I bring you all a Christmas special post where I will be talking about some magical anime you should all sit down and watch these holidays. It's hard for it for me to feel like it is Christmas as I know for most places in the world it is winter cold, freezing but where I currently reside in Australia it is Summer. So a boiling hot Christmas is what I always have now which may sound strange to many as I do miss the cold winter's, being by the fire, having hot chocolate and wearing Jumpers. Oh the difference talking about it now just sounds insane now haha but anime has always reminded me of those cold winter Christmas years before I moved countries which is what inspired me to write this post.
Everyone I have seen lately has been writing their anime Christmas moments, I wanted to do something similar but my Christmas episode knowledge is not so good so that idea was scraped for now but Here is the number one Christmas moment in anime I will never forget and touched me greatly: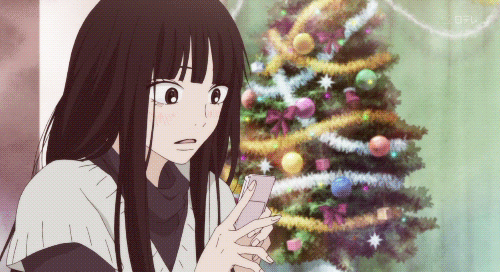 From Me To You
From my favorite romance anime of all time this Christmas episode of Sawako wanting to attend a Xmas party with all of her friends but her parents are really looking forward to spending Xmas together. Sawako felt bad and never said anything it was a gut wrenching moment for me I was so frustrated of Sawako not saying anything in the first place, eventually she plucks up the courage to say she wants to go the moment that made this episode memorable for me was when Sawako's dad gave her a brand new phone. Sawako is so selfless and I think her dad really did notice it as Sawako knew she should speak up more about things that she really wants to do. Of course following the scene with Kazehaya waiting for Sawako but everyone had already left, my heart flied to the moon of waiting for Sawako, that whole scene left me in a puddle. This Christmas episode was really special in terms of Sawako still experiencing new things and the build up this episode gave just made me cry and reminds you of the gift of giving. 🙂 

Looking at this makes me miss my winter Christmas's 
Christmas always gives you that magical feeling so here are some of my magical anime suggestions you should check out these holidays. These anime's recommended I have seen myself and just put a smile on my face. They will make you feel where you want to cuddle up with some hot chocolate (including marshmallows), have some yummy hot curry (curry BECAUSE!!) , be buried in the biggest blanket ever and watch a cosy anime flick.
Kanon (2006)
Episodes: 26
Kanon is about a guy named Aizawa Yuuichi whom for unknown reasons goes away for 7 years without breathing a word to noone, then out of the blue goes to visit his cousin in the city. In the anime he comes across five girls whom are all connected to this past and he begins to remember long forgotten childhood memories.


Haha this sounds really boring this anime but it's a tear jerker, not going to lie it is a tear jerker but this anime has been fairly squandered harshly but in a way it will remind you of clannad due to similar animation style. I have been urging to rewatch this series for so long now I have my eye on buying it, this series is really touching to the heart with how Yuuichi eventually remembers all the girls of how they were connected to his childhood. Purely one of the reasons I love this anime is because it's by my favorite animation studio Kyoto Animation, some of their works are known for their beautiful stories and insanely, dazzling animation. This series has does well on the side of Drama and romance if your into that sort of thing overall just a touching anime to watch, because this series is one of their older works doesn't mean you should shrug it off so easily I recommend giving Kanon a chance.
Princess Tutu
Episodes: 26
Princess Tutu is a fairytale that comes to life I mean real life creator Drosselmeyer who had the power to make his stories come to life, he was working on a story called The prince and the raven sadly he ended up dying before he could finish his story. The entire anime is about this unfinished tale, now Ghost Drosselmeyer will be your guide through the whole story as it mainly is about a girl known as Duck (who is actually a duck). Who is in love with a boy named Mytho who is the prince in the story Drosselmeyer gives her the power to transform into Princess Tutu and retrieve the shattered shards of this heart, as the story gets it's ending.


Girls I have got you covered for some magic and fairytale. This is one of the most magical animes I have ever watched and with such an different, interesting plot you will be in love. Princess Tutu is hard for me to put in words but it's just so beautiful with how it was put together, the first time I watched it I was blown away and knew if I needed a magic girl fix this was it. Everything about this anime is so enchanting from the plot to the well developed characters, what is brilliant is all the characters each have a role in Drosselmeyer's story. But they each have their individual personalities so you don't remember them for just the role they are playing in the story. Magic, fairy tales Princess Tutu is your calling. !!

Kobato
Episodes: 24
This enchanting anime is about a girl named Kobato who comes to earth from the spirit world to forfill a desire to go to a certain place she has always wished to go to. To achieve this Kobato must fill up a glass bottle with things called people's healed hearts, whom people's hearts are hurt, scarred or swayed in the way of sadness or frustration. She only has nearly a year through the four seasons to fill up the bottle as her time is restricted, along side her is Loryogi who is in the spirit form of a dog. He aids Kobato in her mission as well as having his own agenda to settle along the way.
Clamp in my opinion come up with some of the most enchanting anime's known to man and Kobato fills all the boxes for this. I haven't watched this series in such a long time I must rewatch it but I could never forget how beautiful this anime was. There has always been issues of Clamp leaving holes in their plots where it did leave a few unanswered questions but in no way I can't help in loving this anime so much still . Kobato our main female protagnist will touch your little heart of how selfless and sweet she is, always willing to help people. This series is the perfect watch for Christmas it's just magical and so enchanting leaving you with too many feels you won't know what to do with so Kobato is sure to bring the magic home this Christmas.
Inu x Boku SS 
Episodes: 12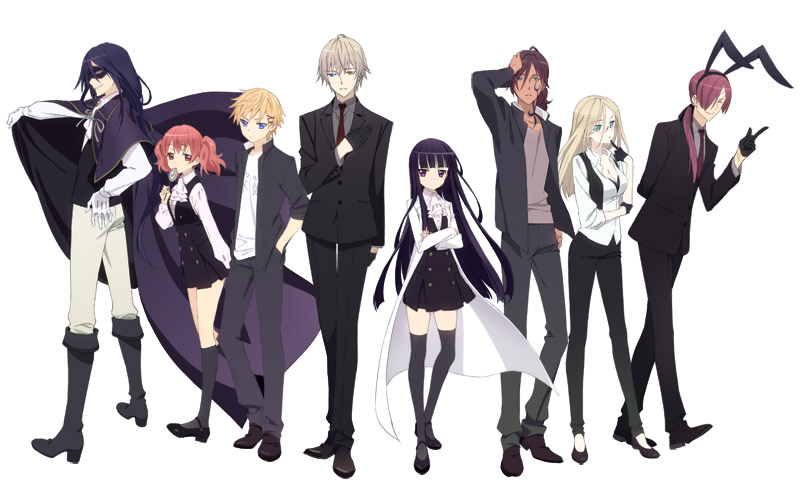 Inu x Boku is about a girl Ririchiyo who comes to live in a complex known as Ayakashi, This complex is strictly for humans who are known as Yokai and have demon ancestors. So they are half demon, half human more compelling for all of these humans to live together in this one high security complex. However each resident is assigned a secret service body guard that's where Ririchiyo meets Soshi her body guard, who is a fox spirit and his job is to protect Ririchiyo. 
Lita how does this anime fit with the word magical? haha strange choice but I like my recommendations to have choice Inu x Boku popped into my head as I was thinking over this post. This series is mainly supernatural and comedy but it's such a cozy, fun watch and if I owned the box set of this I would be watch this upcoming week, maybe I will pick up the series lol. Inu x Boku made it onto this list for it's great comedy and likable characters, Ririchiyo she is certainly a fire cracker of female protagonist, I really enjoyed watching her character development through the show and to me it was kind of magical of how much she had changed from how she was at the start of the series. This christmas Inu x Boku I just feel would be a cozy watch giving you some laughs, it is a laid back series and you should just give it a shot ❤
Children Who Chase Lost Voices
Movie
Asuna is a solitary girl who spends most of her time listening to her crystal radio which always plays this mysterious music which she inherited from her late father. Through a strange encounter meeting a mysterious boy Shun who says he is from a country known as Agratha, the land of the dead where Asuna stumbles upon this country through a secret hideout. Where she meets another boy that looks like Shun, what kind of land has Asuna stumbled into?
Anything by Makoto Shinkai you know will be insanely breath-taking and good, this movie is one of them and can't recommend enough that you go watch it. I watched this movie back in 2011 when an anime film festival was on, randomly I picked this movie the art work drew me and was simply curious. By the end of watching this film I was left memorized, one of the most beautiful anime movies I have ever seen, Makoto's animation is known to be insanely captivating to my eyes it surely was, the landscapes, scenery just leaves you breathless and it's a world I would love to explore. The plot is easy enough to follow when your watching the movie just have pay a bit of extra attention but other than that this movie would be an ideal magical watch this Christmas !!!
Elemental Gelade
Episodes: 26
Elemental gelade is the story of a boy named Cou who is a sky pirate with all his other pirate crew mates, after a raid Cou discovers a girl inside this strange coffin. Cou then meets Ren who is known as a Edel Raid a rare race where they have the ability to change into a weapon when making a contract with a human. Edel raids are exploited and are used a lot for personal gain Ren is a very rare type of Edel raid so many come seeking after only for her power, Cou sticks by Ren and they go on a journey together in search of this Edel Raid haven know as Edeldo garden.
This is a personal one I'm adding to this list here as I love this series so much, I've rewatched this series over 10 times because Lita is obsessed >.< Elemental gelade is a really easy watch, simple plot and has some decent action going on, I'll say for the record Ren might annoy people when watching the show because of her bland personality she doesn't say much, but that is apart of her character. An adorable show that really surprised me when I watched it for the first time with all the emotional moments that occur in the series, it is an anime that is close to my heart and may be curious to those who are a fan of fantasy. For Christmas I just feel would be something different and comes with a cute developing relationship between Cou and Ren, it's an easy, cute watch. Give it a crack !!

No… I don't suggest strange anime…
Maybe.
I really hope you liked my suggestions for magical anime to watch these holidays, you don't actually have to take into account my suggestions. I'm sure people have their newly bought anime they want to watch but comment below if you have seen these animes, or have I peaked your interest? As is always my intention when I recommend anime.

This will be last post for a couple of weeks now should return on new years weekend with new stuff to announce for the year of 2016 !! I'll see if in between I could fit in a birthday haul post lol
I wish all my amazing blogger friends and readers a very very Merry Christmas, hope you binge watch all the anime's, eat till you drop and have all a jolly time. I will see you all in the new year, if you wish to chat with me I'll be on twitter or you can ask me for my skype name, would love to chat to fellow blogger friends their too. !! ❤
Have a safe one everyone !!!
Love,
LitaKino

|