Dengeki Daisy
Genre: Romance, Comedy, Drama
Published: October 26, 2007 –February 24, 2014
Volumes: 16
So… since march I have not written a manga review heh >.<
*raises hand*

but now I am writing one so it's all good now. This manga I have been reading for over the last month (took me that long) as I have said previously I am a slow manga reader and I'm okay with that, just means I take extra care to detail. I needed to get some Shoujo anime in me as I had not read any in so long, I had wanted to read this manga for the longest time and finally glad I got the chance to read it, As Lita reviews the oh so hilarious Dengeki Daisy.
Story/Plot
Our main heroine of the story is 16 year old Teru Her brother suddenly dies and all he leaves her with is a cellphone containing contact information for someone known as "Daisy". Her brother promised her that daisy would always be there for her when he could not, so for the longest time Teru and Daisy are always messaging each other. Daisy becomes her support and always is encouraging her when she needs someone.
After a incident with some bullies Teru accidentally breaks one of the school's windows and she ends up somehow working for the school's grumpy Janitor Tasuku Kurosaki. Teru someone along the way begins to suspect Kurosaki and his idenity on what could this lead to.
Art Style

I love some old school art style, In dengeki daisy it has a very unquie art style especially comedic parts in the story. All round I really love the art style it has a very expressive and simple feel to it.
My thoughts
I thoroughly enjoyed this manga a lot it had a great balance of drama and comedy. Though at first I remember reading about the plot of the story I thought there wouldn't be much to it but I can say now it really does have a deep, interesting plot. One of the things I did love about the manga was It doesn't focus the whole time on the relationship between Teru and Kurosaki but there are other happenings occuring which I think will keep people who read this manga interested.

One of the most entertaining things about this manga was Teru and Kurosaki they are both hilarious just in so many scenes in the manga they literally mad me laugh. I've not had a manga like this make me laugh so much, Both these characters bring a lot of the comedy to this manga. Kurosaki underneath is down right evil to Teru and always teasing her or trying to annoy her in someway. Yet underneath all that he has a very sweet natured side to him also, I love seeing different sides to characters.
Teru and Kurosaki do have some sweet moments which make you go aw. Emotional strings are attached to the plot of the story especially in Kurosaki case he ends up carrying a lot of responsibility and gulit. Teru never realized for a while in the story that actually this Daisy she had been emailing whom she trusted with her life was Kurosaki, heh this part never surprised me when I found out it is kind of obvious. But still didn't ruin the whole manga for me.
They are really sweet together ❤
It was always really cute to see how protective Kurosaki was of Teru but in the beginning he kept denying how he felt about Teru but you know how it goes after that hey girls 🙂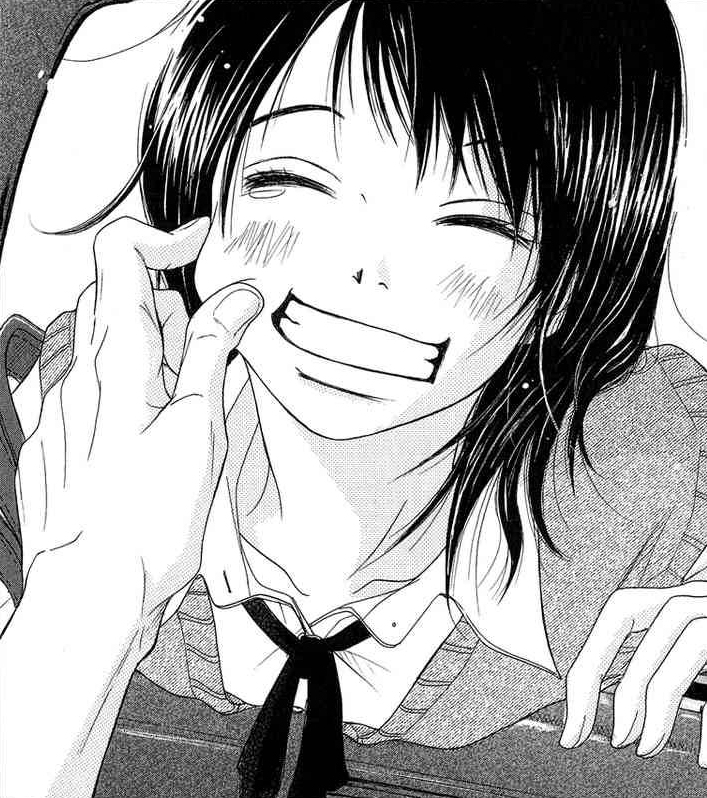 I loved Teru's character the most throughout the manga she was always so over the top, very funny and strong willed. She pulled a cord in me with everything that she had gone through, I felt very emotionally attached to her, all round she is just so cute really.
I give Dengeki Daisy a 10/10
because for me it had a great balance of romance, comedy and seriousness. This manga is perfect for any shojo manga fan or anyone who loves reading romances, it will keep you interested certainly did for me 🙂
Please comment below if you have read this manga already and your thoughts on it
Lita would love to know ❤
LitaKino