Anime: Sankarea/UndyingLove
Published: April 5, 2012 – June 28, 2012
Genre: Romance, Comedy, Horror, Supernatural 
Episodes: 12 + OVA
Muahhhh anybody here like zombies?
I recently on the weekend finished watching this all over the place anime. I always divert so randomly from different anime genres, this was one of those times. 😛
Story/Plot
The story revolves around Chihiro Furuya who ever since he was little has been obsessed with zombies….and literally anything zombie. (reality sucks to him) he dreams of zombie girls, normal girls don't do it for him. Sadly his cat Babu dies and tries to then resurrect him using an old book he came across. While attempting this he meets a girl Rea Sanakera, She is a rich little princess who you would think is as happy as pie but she has deeper problems going on for her. She hates the life she has and wishes she can be reborn, thus she finds out what Chihrio is up to and somewhere along the way they both make up a "supposed ressurection potion" made from a Hydrangea macrophylla . Secretly Rea steals some of the potion and drinks it in an attempt at sucicide, In a twist while having an argument with her father she falls from a cliff and comes back to life as an zombie……. (let's not spoil the rest) ^__^

My Thoughts
Hmm… where to start with this anime haha firstly I will say Rea makes a cute zombie hehe.
I have to point out I love the Opening itself a lot to this anime it is just cute and gets stuck inside your head the song (I already have it on my Ipod >.< . Take a click and have a listen:
This anime is not all gore and just blood spirts everywhere like highschool of the dead (if you like that sort of thing click the link but I do like highschool of the dead) I would class this as a mild zombie anime, I liked it wasn't overtop and that is what made it easier for me to enjoy this anime. I loved the first couple of episodes of how Rea and Furuya met just the scene of all always going to scream in the well and Furuya watching from afar. I would let my frustration out that way too.
It always made me wonder of Rea always talking about why she wants to be reborn and why her life was so terrible. At first I didn't feel sorry for her not until you find the truth she has a sick FATHER !!! Her family is as dysfunctional as they come. Her step mother cast out screaming for attention from her husband who is sickly in love with his own daughter, takes pictures of her naked every year for her birthday, gets rid of anyone that gets close to her, locks her away in her mansion like a helpless Rapunzel….. Yeh I can see why she'd want to get away and live a normal life. The more bigger truth you found out later that the way he loves his daughter, he is loving her as he did his first wife who was 15 when he married her…. >.>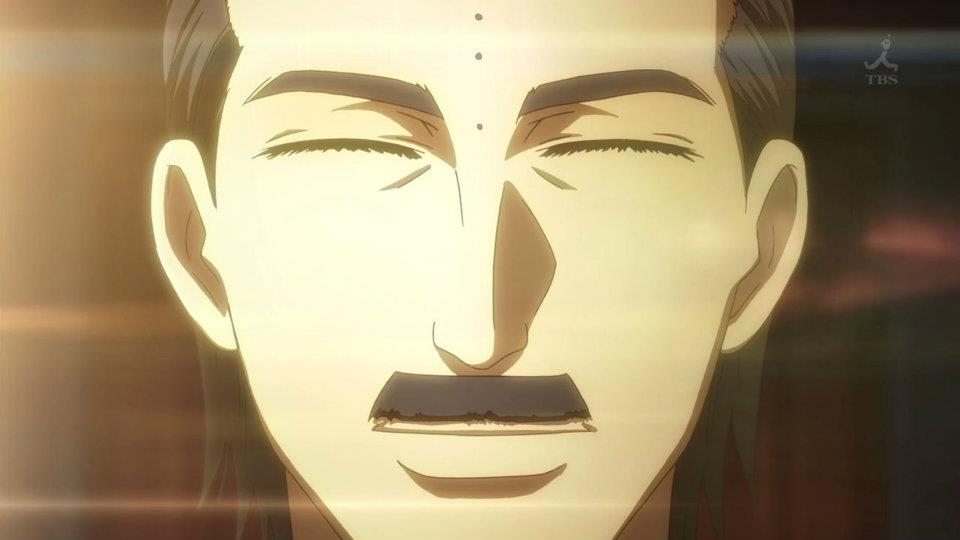 He makes this face a lot in the anime….. I just wanted to kick him in the balls the whole time. Control Freak !!!
Though without his character I'd say in the anime I don't think the anime would have been as entertaining as I felt it was.

Yeh… He knows how to pick them doesn't he lol
Moving on…
I thought Furuya's family were rather entertaining and cute for some strange reason, but it was always reptitive with the same with his grandpa who is very senile asking why is there onion in his miso soup and his sister would always reply "No grandpa it's just eggplant". I just didn't like that scene always being repeated apart from that cool family.
Now Nyaaaaaaa I have to say this Furuya is soooo cute especially with his ears I guess you could call them those. I don't know if actually there apart of his hair or not but who cares there adorable lookie…… 😀
Huh Me >/////<
Yay let's talk zombie stuff now I love the apperance that the illustraters gave Babu and Rea weren't overly creepy they both looked awesome and fitted the part of zombie rather well.
 I loved the whole idea of the Hydrangea macrophylla the poison plant used in potion that revived both of them their source of food. it's easy to say you are vegetarian, which I believe there was one scene Rea used that excuse. Babu was just a funny cat and he was entertaining in it self.
I thought Rea set into the role of becoming a zombie well when she realized she was. It was a new least on life for her and was adorable the way she embraced that. I found her annoying at first but when she came back as a zombie I just found her so cute and became an easy lovable character. One character I'm glad was in the anime was Ranko was Furuya's childhood friend:
Now some of you may find her character annoying in the anime but I found her to be hilarious. She has a very loud personality and of course was obvious she liked Furuya :). I think I really started to begin to like her character was episode 7 when it's of her reflecting of when she first met Furuya. I thought that episode was adorable and I found Furuya even more funny as a child still zombie everything to him at his young age. lol I admire her dermination throughout the anime ♥
This scene is really cute 🐱
Being a sucker for romance of course I paired Rea and Furuya at first I never did but after Rea became a zombie I definitely did !! I think they good together and I loved how Furuya reacted when realized she was his dream zombie girl….
 They both grew throught the anime I loved Furuya's character development more as he was not a fan of reality and real people much. Rea definitely looks cuter with red eyes I think more. Ohh these two cuties ❤
Favorite Character Of The Anime
My favorite this time had to be Furuya I loved his whole individual character especially with obsession with zombies. I just loved to watch him grow throughout the anime and he just got cuter as he began to come out of his shell more. He represented of when you isolate yourself from the world and takes one person to break down that wall.
Overall Rating
Sankarea I am going to give an 8/10
I did really love this anime and the whole plot of the story, The characters I felt were really well thought out to fit the theme of the anime and not going over the top on the whole zombie thing. It wasn't all about guts and blood. It's pleasurable for certain people to watch. In this anime I did skip one episode 9 which was focused on Furuya's sister Mero. She was a bit bland her character and the episode just bored me 1/4 in so I skipped it, haha that's just me I usually don't skip episodes I like to watch  every single one so I don't miss anything out but in this case I got bored in the episode.
I didn't like the way the anime ended of Rea going into one of her trances, leapt onto Furuya and bit his lip…..ends there….okay o.o I was left in confusion. All I can hope for that there is a season two because the ending was disappointing.

This is what you will see >.>
So any zombies lovers I would recommend this to and to anyone who is not looking for overtop zombie stuff. I stream all my anime on animejoy and here's is a link to the anime if you decided after reading this to watch it
Hope you enjoyed my long review haha lol
LitaKino